1-year-old dies, couple suffers third degree burns as family attempts to escape Cold Springs Fire
|
A family believed to be fleeing the Cold Springs Fire in Washington has suffered an unimaginable loss. The couple's 1-year-old son died and they were left with severe third degree burns.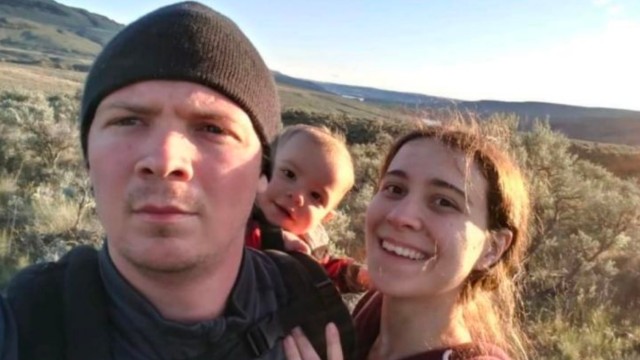 According to reports, Jacob, 31, and Jamie Hyland, 26, of Renton, Washington were visiting their property in Okanogan when the fire broke out over the Labor Day weekend.
They attempted to escape the flames, but at one point abandoned their vehicle.
Officials received a call Tuesday about the Hylands and later discovered the family car wrecked and burned.
Rescuers found them Wednesday on the banks of the Columbia River. Their son, Uriel, was already deceased.
The Hylands were transported to a hospital for treatment.
According to a GoFundMe set up by a relative, Jamie has burns over 40 to 50 percent of her body and has had surgery on her arms. Jake suffered burns on 25 percent of his body and will undergo the same surgery Jamie had on her arms.
They both remain in critical condition, though doctors are optimistic they will recover.
So far more than $80,000 has been raised for the family.
My heart goes out to the Hylands. I cannot even begin to imagine what they are going through.
Share this to send a prayer to them and their family.
The post 1-year-old dies, couple suffers third degree burns as family attempts to escape Cold Springs Fire appeared first on Happy Santa.