103-year-old woman celebrates COVID-19 lockdown lift with first tattoo and motorbike ride
|
Birthday parades seem to the new normal for celebrating a loved one's special day.
For those elderly people for whom it's been even more vital to stay in quarantine, being able to see other people is the boost they need after spending so much time in isolation.
A birthday parade is the perfect way to help our elderly and vulnerable stay safe but still enjoy themselves on their birthday.
But one 103-year-old in Michigan was so elated that her Muskegon nursing home lockdown had been lifted she decided to take a walk on the wild side for her birthday.
Like most of us Dorothy Pollack has a bucket list and refuses to let age get in the way of her crossing a few of those wishes off her list.
So for her birthday recently she treated herself to a tattoo.
"It was pretty exciting because years ago my grandson wanted me to get [a tattoo] and I wouldn't do it," Dorothy told CNN. "All of a sudden, I decided I would like to have one.
Dorothy got a tattoo of a frog, one of her many loves after beer and burgers, and didn't even flinch while getting the painful procedure, according to ABC 7 News.
Dorothy's granddaughter, Teresa Zavitz-Jones, said "COVID-19 had her in prison for months."
She told CNN: "The nurse in the home said she was horribly depressed and we needed to get her out.
"We couldn't see her so we had no idea how she really was. She's extremely hard of hearing so phone calls were not helpful."
After the tattoo, she crossed another wish off her bucket list and hopped on the back of a motorcycle for a ride.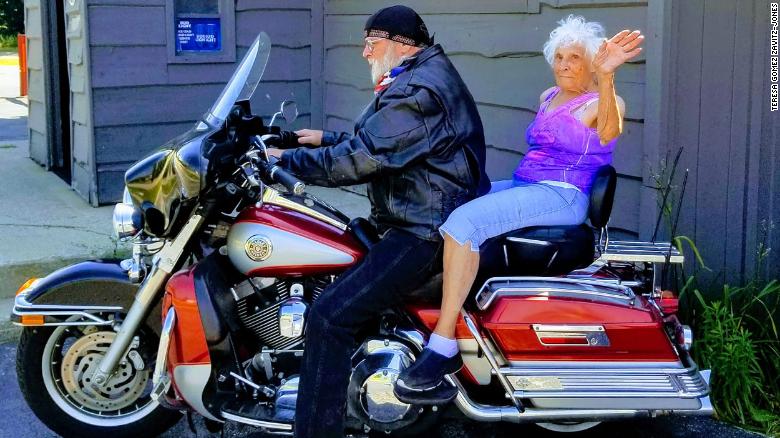 I'm sure this fabulous lady has many more adventures to come and we wish her all the happiness for a fun-filled year.
Please share if you too loved how Dorothy celebrated her birthday free of lockdown.
The post 103-year-old woman celebrates COVID-19 lockdown lift with first tattoo and motorbike ride appeared first on Happy Santa.