8-year-old honorary Georgia police officer dies after losing battle with brain cancer – rest in peace, Juvell
|
Back in November, 2019, Clayton County, Georgia, got a new police officer.
Juvell Harris, who at 8 years old had already faced a tougher battle than many people will in their entire lifetimes, was offered an honorary position on the force. Officer Michael Lowe paid him a visit in Southern Grace Hospice to give him the good news.
Juvell had an aggressive form of brain cancer, and his loved ones were keen for him to fulfil his dream of becoming an officer on the force. Fortunately, through Clayton County, he was able to do just that.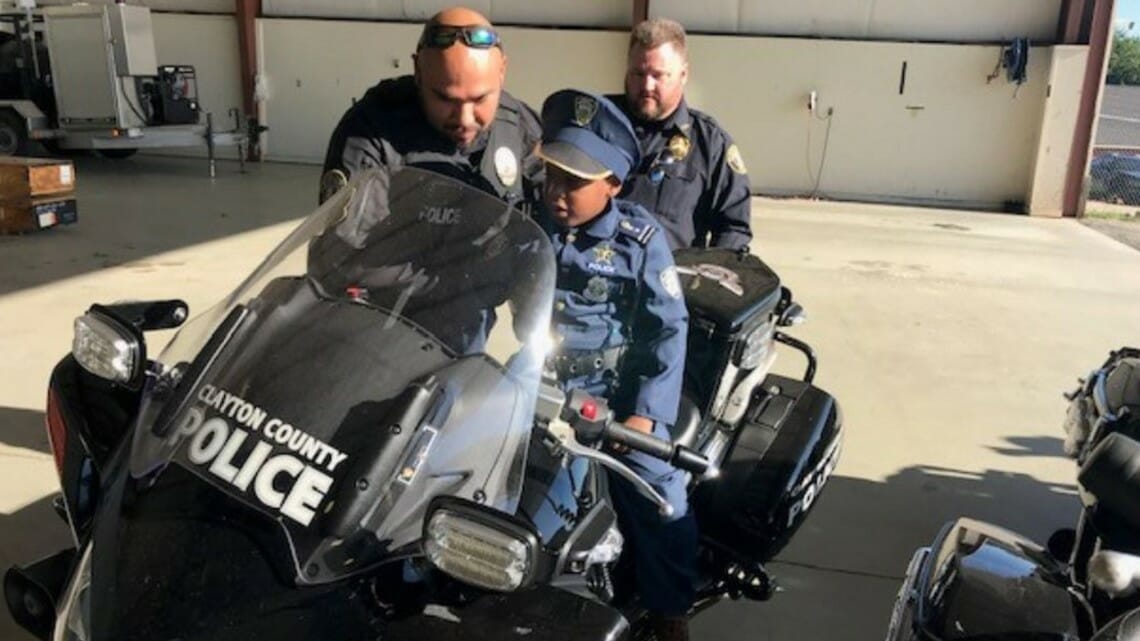 During his day with the force, Juvell was able to do such things as sit a police motorcycle, help solve a case and meet retired officer Tim Lively, who was fighting the same cancer he was. "What matters is that you know it in your heart. You know that you're a warrior," Lively told the young boy.
Sadly, Juvell's fight ended recently, after the 8-year-old passed away surrounded by friends and family at the hospice where he was being cared for.
"It is with our deepest sympathy to inform everyone that little Juvell Harris, our Honorary Police Officer lost his battle with Brain cancer early Saturday morning," the police department wrote in a statement back in February.
"Juvell Harris will always be a member of the Clayton County Police Department and will be greatly missed. Prayers are extended to the Harris family during this difficult time."
Little Juvell may be gone, but he made an impression on all those he met, and he certainly proved himself a warrior.
Rest in peace, Juvell. You're safe in the Lord's arms now.
Share this article to pay your respects to a brave little boy who took the fight to cancer with inspiring courage.
The post 8-year-old honorary Georgia police officer dies after losing battle with brain cancer – rest in peace, Juvell appeared first on Newsner English.