80-year-old man jumps into canal to save driver from sinking car – he deserves our praise
|
Despite what he may think, an 80-year-old man is being called a hero after he rescued another many who was trapped in a sinking car.
Steve Montelongo had just left the dentist with his granddaughter when the two were stopped at a traffic light in Modesto, California and she spotted a terrifying scene.
"Then she says, 'Oh my god. A car just went into the canal, grandpa,'" Montelongo told KCRA.
"I see about 20 people gathered there. The guy's still in the car." So he said to himself, "I guess it's up to me."
Without much of a thought he jumped in
As the car began to move in the water, Montelongo jumped in to help the man.
All four doors were shut, but luckily he was able to open one of the rear doors.
"When I opened the door, it gushed in and it pulled me, it actually pulled me towards the car and I fell back against the car and I tried to get my balance, still with my sight on the man, making sure he wouldn't go under," Montelongo said. "I literally yanked him out, just praying that T-shirt wouldn't rip off right there, you know?"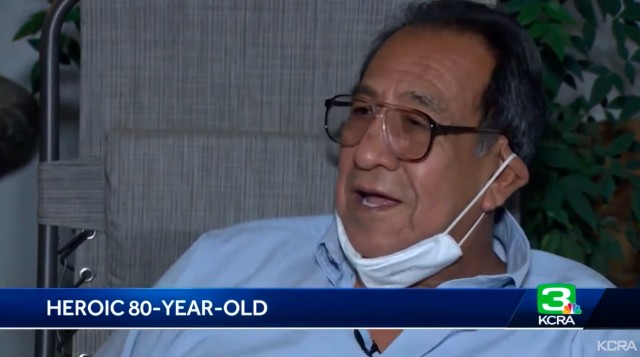 Although the 80-year-old didn't consider himself a hero, those who were there that day recognized his heroic actions.
"First responder, he can probably add to his resume. A lot of people are in the right place at the right time, but very few actually did what Mr. Montelongo did," Tom Olsen with the California Highway Patrol told CBS Sacramento.
"Well it appears by all accounts that on paper he's 80 years old, but his attitude is much younger than that."
The man Montelongo pulled to safety survived.
And this isn't the first time Montelongo stepped up to help someone in dire need.
In 2003, he rescued his two neighbors, 79 and 80, after a natural gas explosion and subsequent fire.
After kicking open their front door, he was able to pull Kathirne Mattox, 80, to safety, and then he, a 62-year-old retired construction worker at the time, returned to the home to search for Wayne S. Maxwell, 79.
According to Carnegie Hero Fund Commission, which awarded him a medal for his courageous effort, he walked through the burning home to find Maxwell, gave the shoes off his feet to Maxwell, and then guided him out a rear exit.
All received medical care for injuries sustained in the fire, but everyone survived.
"No no, I don't consider myself a hero. I was just a fella that got put in the right place at the right time," Montelongo said.
No matter what Steve says, he is a hero and he needs to be thanked. Let's thank him for saving three lives!
Share to thank Steve for his heroic actions.
The post 80-year-old man jumps into canal to save driver from sinking car – he deserves our praise appeared first on Happy Santa.