Arkansas couple, who have known each other 'forever,' celebrate 80th wedding anniversary
|
[ad_1]

While Uvie and Leroy Evatt aren't the current record holders for the longest marriage, there certainly aren't many ahead of them.
The couple, who live in Little Rock, Arkansas and are both in their 100s, have been married for the past eight decades.
Although Uvie joked that the two have known each other for much longer.
"Oh I don't know, I wouldn't even guess, I forgot, I don't know, forever!" she said.
They grew up together in Vilonia, Arkansas.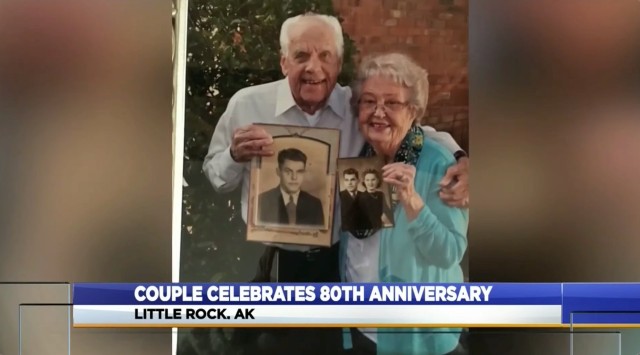 Recently, the 101- and 103-year-old celebrated their 80th wedding anniversary.
Eighty years of anything is worth celebrating, but especially marriage because according to Fatherly, 20 percent of marriages end before the fifth year, and that number on increased, albeit slightly, as time went on.
Uvie and Leroy said on top of exercising and eating right, the key to their long-lasting marriage is communication.
"I'm the head of the house, she's the neck, she controls the head," Leroy said.
The couple also has a large and supportive family who keeps them going.
"Oh man! Theres nothing in the whole world like them!" Uvie said.
Congratulations to the happy couple! May you celebrate many more happy years together!
Share this happy story on Facebook.
The post Arkansas couple, who have known each other 'forever,' celebrate 80th wedding anniversary appeared first on Happy Santa.
[ad_2]