As a 7-year-old, he tried to kill himself: Dad's heartbreaking story is a must-read for everyone
|
All children deserve to be loved. Despite this, children are abused worldwide; every second, every minute, every hour of every day.
A child has the right to live in a home free of violence. They need love, care and attention – something as simple as a hug can be worth more than you could imagine.
Unfortunately, tens of thousands of children are abused in their own homes every day. Blake Woody was one of those children – and his upbringing could taken straight from a horror movie.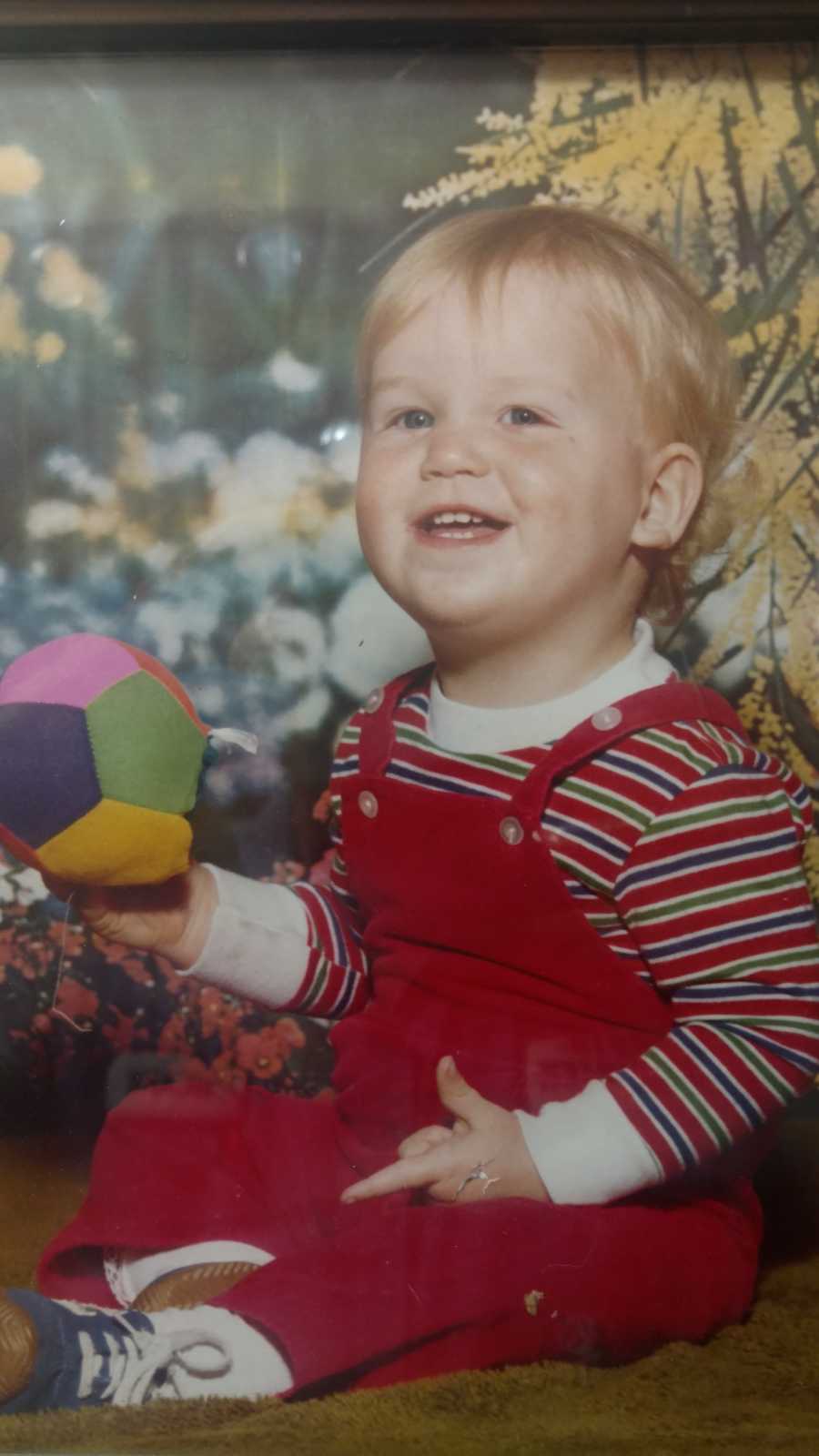 During his childhood, he was abused, beaten and tortured by his stepfather – it went so far that Blake wanted to take his own life as a 7-year-old.
Later on in life, he was placed in more than 40 types of juvenile institutions. And when he finally met his biological father, things got even worse. It sounds completely absurd, but Blake's biological father injected him with meth.
But Blake would get a second chance in life – when he met his future wife, Tina, things changed. Tina became pregnant and that sparked a new start in Blake's life – a life that is so far from drugs, addiction and abuse.
We have been allowed by Blake to publish his story and I really recommend everyone to read it, to the end. Feel free to share it as well, hopefully it can inspire and help someone who is going through the same thing as Blake.
"I was born in Cottage Grove, Oregon. I have one older sister and two half-sisters. My mother married my stepdad (and father of my two younger sisters) after leaving my abusive and drug addicted biological father when I was still a toddler. My stepfather was very physically and emotionally abusive from almost the beginning. Due my dysfunctional home life, I was put into a special school in first grade for troubled kids. I was usually very good at hiding my bruises, but one day I didn't do a very good job.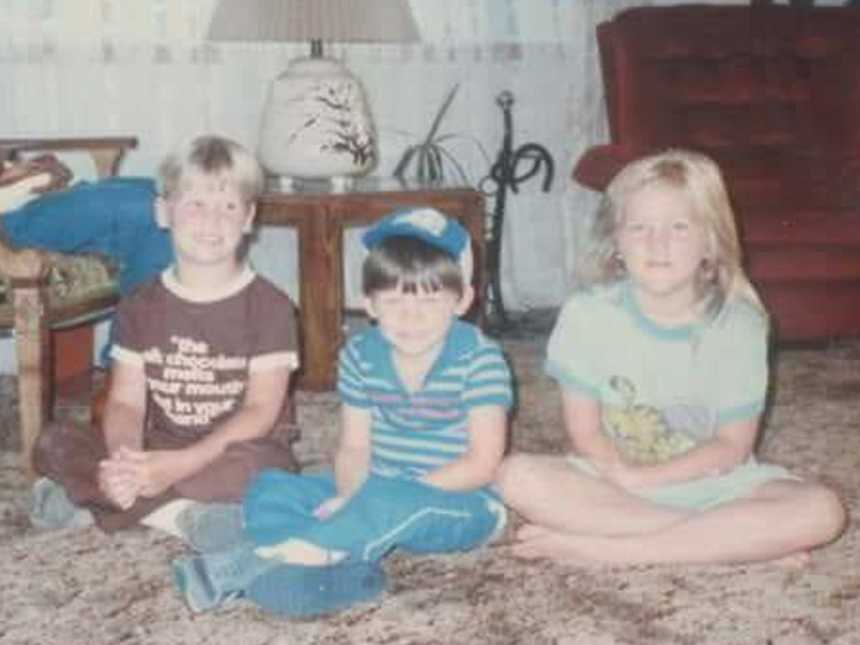 One of my teachers saw a very distinctive bruise in the shape of a 2×4 on my arm. She asked how it happened. I told her it was from carrying firewood. What really happened was the day before I had gotten in trouble. My stepdad decided to whip me with a 2×4 piece of lumber. I was trying to block the blows. When he was hitting me, he would just randomly swing things and wherever it landed was where it landed so when I put my hands back to block the swings he struck my arms. He hit me hard enough that it left a bruise with perfect straight lines in the shape of a 2×4. I assumed my teacher believed my story because after a few questions she just walked away.
I got off the bus that day and went inside. Just a few minutes after I got home, there was a knock on the front door. I went to answer and there was a man standing there in a tan suit with a brief case. Turns out he was from CPS. I was taken away that night and sent to a temporary foster home. This was the beginning of my journey.
I was too young to remember, but I was allowed return home. Soon after I returned home my parents decided to move us to Nebraska where my stepdad's biological father lived. The abuse got worse and unfortunately his family was also extremely abusive. I spent Thanksgiving and Christmas in a mental ward of a hospital when I was 7 because I tried to kill myself. My stepdad loved to use food as a punishment. I would go days sometimes without food. Usually holidays were a different story – I would be allowed to eat. I was excited I was going to get some food. In my excitement I forgot to feed our dog, and because of this my stepdad told me, 'if you can't remember to feed the dog then you don't need to eat either.' I remember I was so hungry and so upset that I would not be getting any dinner, that I just wanted to be dead. My mother walked in as I was trying to stab myself in the chest with a pair of scissors. I was taken to the hospital and that is where I stayed for 44 days. The hospital did give me Thanksgiving dinner that night after my parents left.
I went back and forth between my parents and state custody. Once again I was too young to understand why I was going back and forth. It came to the point where it was decided I would go to Boys Town in Omaha, Nebraska, and spend the rest of my youth there. At that time, I was told that although I was staying in Nebraska my parents and 3 sisters would be moving to California. I had no family in Nebraska. All my family was in California and Oregon. I remember being scared to death and very lost. Then in came my hero, my grandfather.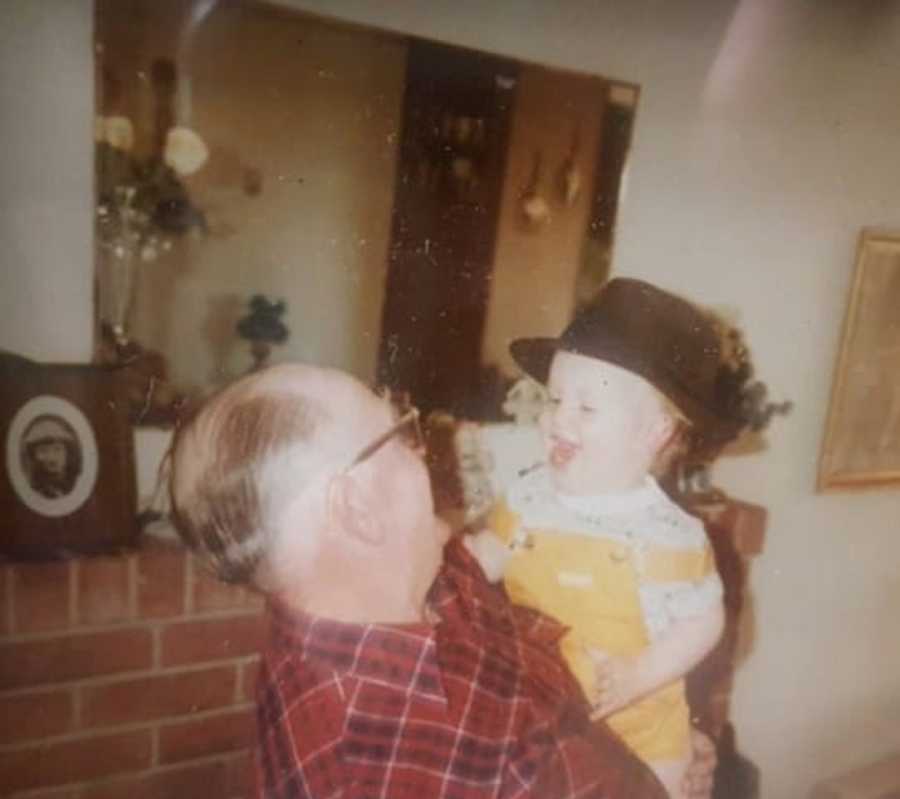 He lived in Sacramento and had flown out to Nebraska. There was no way he was going to allow his grandson to be left behind with no one. He assured the state of Nebraska I would live with him. I was released to his custody and my case was transferred to California. Once we were in California I was surrounded by family. I had some of the best great grandparent any person could ever ask for. They would show me what love was and taught me what being a man was about. I was still a very difficult kid to deal with. I was suspended from school often for fighting and other behaviors. My grandpa did the best he could, but he worked 12-hour days for the railroad and could only supervise me so much. One day I was notified the state of California was going to allow me to move back in with my mom and stepdad. Once back at home, nothing had changed. The beatings were more frequent, and the punishment of no food was more unbearable than the beatings. I remember asking if I could just get a whipping instead of not eating. That request was usually denied. Luckily, when I wasn't in foster care I spent most weekends with my great grandparents. My great grandma would always make sure I had more than enough to eat. Their home was my safe space, it was my heaven.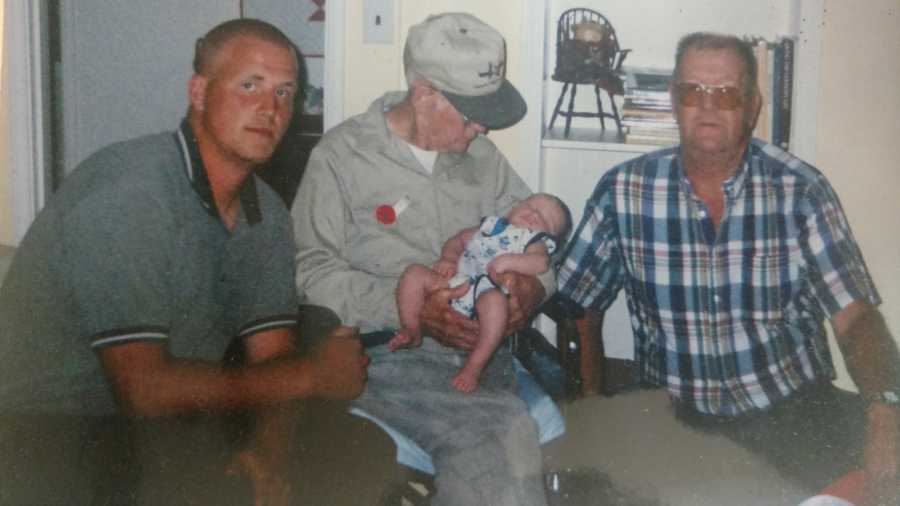 Eventually at the age of 9, I was given to the state of California for the last time with the idea I was 'too far gone' and 'too much of a hassle' to keep at home. I would spend the next 6 years going through home after home. I started in foster homes but once a boy in the system gets to the age of puberty, not many foster homes will take them in. I was sent to over 20 different homes, never staying in one longer than a few months. When you are a boy in the system and you are no longer able to be in foster homes, you are moved to group homes. Group homes are where young men are taught to be institutionalized.
When I was 13 I was sent to the Sacramento Children's Home. There I learned to survive on the streets. There was little to no supervision by the staff. I, along with gang members and drug dealers from all over the state, were left to fend for ourselves. The fights were daily. Fights to take a shower, fights to eat, fights to get a spot on the couch. I started to become a violent person here and lose my compassion. One day I was waiting for a visit from my mother, and she never showed. I was told by my social worker that my family had moved to Oregon. I moved around the state to a few more homes until I was 14. I was told I was going back to live with my mom in Oregon. By this time, my mother had divorced my stepdad and was attending AA meetings to get clean and sober. Our relationship was always volatile. It was not long before I was given to the state of Oregon because my mom couldn't handle me. I went to a few homes but by this time I was too old to be in the system. I just simply left, and didn't return.
I ended up bouncing from couch to couch. I moved back and forth from Illinois, Oregon, Washington and California living with different family members or anyone who would take me. I finally ended up sleeping under the I-5 overpass in Medford, Oregon. I got myself 3 jobs by lying on the applications and saying I was 16-18. I then pretended to be a recovering alcoholic because I knew the Oxford House in town would rent a room to me even though I was underage. Over a period of time, I lost each job and was unable to pay my rent and would soon be kicked out. I called my grandma in Cottage Grove to ask for help. She told me my biological father had just gotten out of prison again and was living in Goshen, Oregon. I hadn't seen him since I was 4 years old when he took me to get an ice cream. He was a drug addict and career criminal who spent almost my entire life in prison. I had no other options, so at 16 I called him, and he said it was OK to come stay with him. I ended up working at a truck tire shop with him. For the first week or so everything was fine. Then one day he did not show up for work. Turns out he had gotten back on drugs.
"Injected meth into my arm"
Up to this point I hadn't done anything except drink and smoke weed. I was sitting on the couch when he walked out and asked if I wanted to do some drugs, he then pulled out some Crank (Meth). I agreed, trying to be a cool 16-year-old. I was thinking we would smoke or snort whatever it was. Turns out he had a syringe full of dope ready to go for me. He had me sit on the toilet, he then proceeded to inject meth into my arm. I did it a few more times with him before I begged my mother to allow me to come back and stay with her. Being young, stupid and back in Medford was not a good combination. I immediately found the wrong crowd. We were a bunch of thug drug addicts that went around terrorizing people. I ended up in a lot of trouble with the law. I was on my way to prison on a measure 11 charge when somehow, I convinced the judge to allow me to go to Job Corps. He allowed it and I went to Job Corps, got my GED and completed 3 Trades. I was also extremely good at manipulating the system by this time due to growing up in it. I had a great time, made some great friends, but I also continued with my drug usage. Once I left Job Corps I moved around the northwest from person to person. I again landed in Medford and again ended up in legal troubles.
At 19 I was standing before a judge again on measure 11 charges but this time I already had a ship out date for the Navy. The judge agreed to suspend the case on the grounds I go into the Navy. I was in the middle of boot camp when I was tested for asthma. I tested positive and was given a medical discharge. I got back to Medford and ended up moving to Idaho where a close friend and I lived together. The drugs and drinking were getting worse. We were dealing to about half the town. This is when and where I would meet Tina, my ex-wife.
Due to many events and circumstances Tina and I decided to move from Idaho to Medford, Oregon. After a few weeks in Medford we found out she was pregnant. This was the event that changed my life forever. I would be a father. At the moment my first sin Elijah was born I knew I had to change my life. I could not allow him to grow up the way I did. I had to make sure he had every chance I didn't. I needed to make sure I used my life lesson to teach him and to give him the right tools he would need throughout life. I got off drugs, I got a job I kept for more than a few months and my journey as a father began.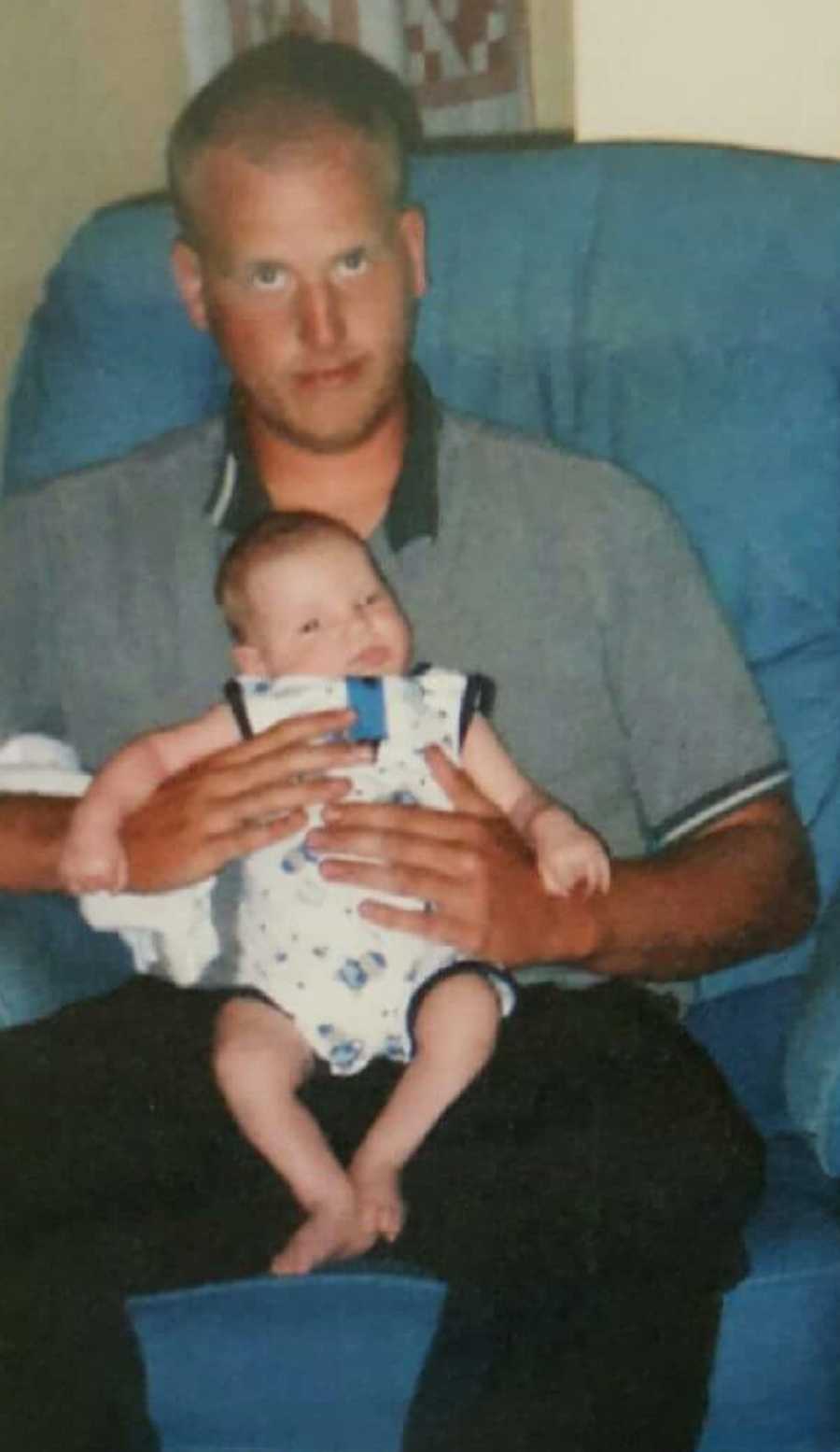 Fast forward to August 2004 when my second son Izaiah was born. Life was uneventful. Throughout my life I had counselors, foster parents, social workers, staff members, family members and many others tell me I would be a nobody. That I couldn't have a family because I too emotionally disturbed. I would take my childhood out on my children, and other stupid things like that. At this time in life I was just enjoying being a father. But one day in 2010, after being together for 10 years, my then wife told me she had met a man on MySpace and would be leaving me. He had just gotten out of prison and was in a wheelchair paralyzed from the waist down. Although that was hard for me, she left my boys as well. The pain I had to watch my 5 and 8-year-old sons go through when their mother said goodbye was one of the hardest days of my life. Not because of what I was feeling, but what my boys were feeling. If anyone knows what it's like to have a parent walk out on you, it's me. That is one pain I had hoped they would never know.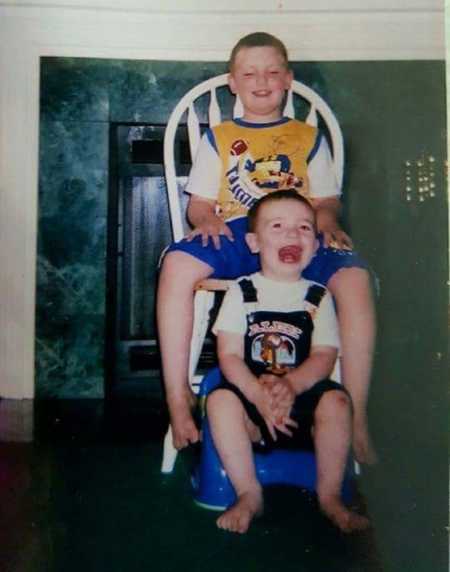 She moved to LA and it was just the boys and I for the next 2-3 years. The first part was rough, but we got through it together. With all the people that told me what I couldn't or wouldn't be, it seemed that there was always a Coach that would be the first to introduce themselves to me wherever I was through my life. My freshman year of high school I went to 12 different high schools. It's never fun being the new kid, but coaches always seemed to make me feel comfortable and gave me someone to look up too. With that I started to volunteer coaching youth football, then when my boys became age to start sports, I coached their teams until they went to high school. I have coached youth sports in my community for 14 years. I continue to coach to this day, even though I no longer have kids in the youth programs.
I was able to pass this sense of community and volunteering on to my sons. Elijah has always been a big kid. He is a gentle giant. He was picked on a lot by the other kids. He was overweight, tall and has a condition that made it to where he had 2 rows of teeth. The kids were relentless with the bullying. One day his 5th grade teacher warned the entire class of what would happen if they continued to tease and pick on a kid of Elijah's size. At the very beginning of 6th grade, Elijah was sitting at breakfast in the cafeteria when a kid walked up to him, picked up Elijah's tray of food and threw it in his face in front of the entire school. Elijah had had enough, he stood up and beat this kid pretty good. After the entire school saw what he did to this kid, no one messed with him anymore.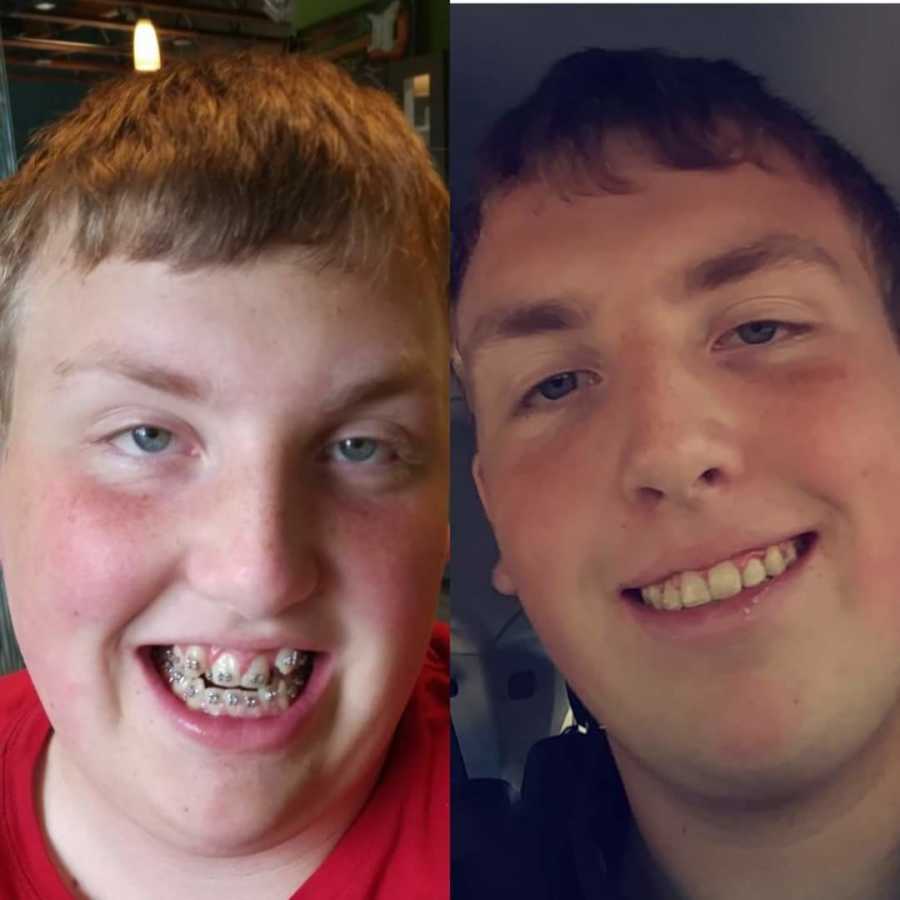 Elijah is now a senior at Newberg High School. He has lost all his unhealthy weight, we were able to get him braces to fix his teeth and he couldn't be happier or more confident (in a good way). I can't say enough about this kid. He already has scholarship offers and will be the first male in his family history to go to college. Because I had to go to so many schools, I always told myself that once the boys started school they would stay in that school for their entire school careers, and they have. They have been able to put down roots and spend their entire childhood in the same community.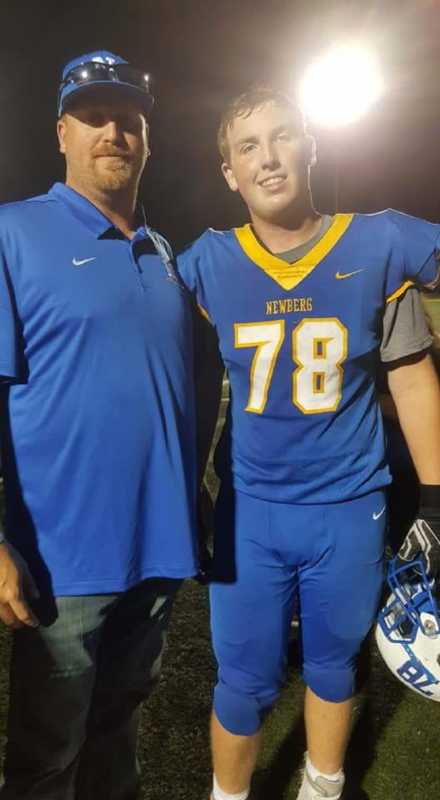 Since freshman year, Elijah has worked to raise money for families that are less fortunate. He does this throughout the year by collecting cans and returning them, but his biggest money maker is cleaning up after school varsity events. Elijah also plays sports, so for him it can be exhausting. He plays every offensive and defensive snap of the football game, he then goes into the locker room with his team and does what he needs to do. He then returns to the stands and cleans up all the garbage on the field, in the bleachers and all the surrounding areas – sometimes until midnight. He also does it after track, volleyball and basketball events. He gets paid by the custodial department of the school.
He then takes the funds and adopts a family for Christmas and other holidays. He then takes them presents, food or whatever he has raised the money for and gives it to them. He also surprises one teacher every year with a huge amount of school supplies for the kids that cannot afford them. He, along with Izaiah, are always looking for ways to help people.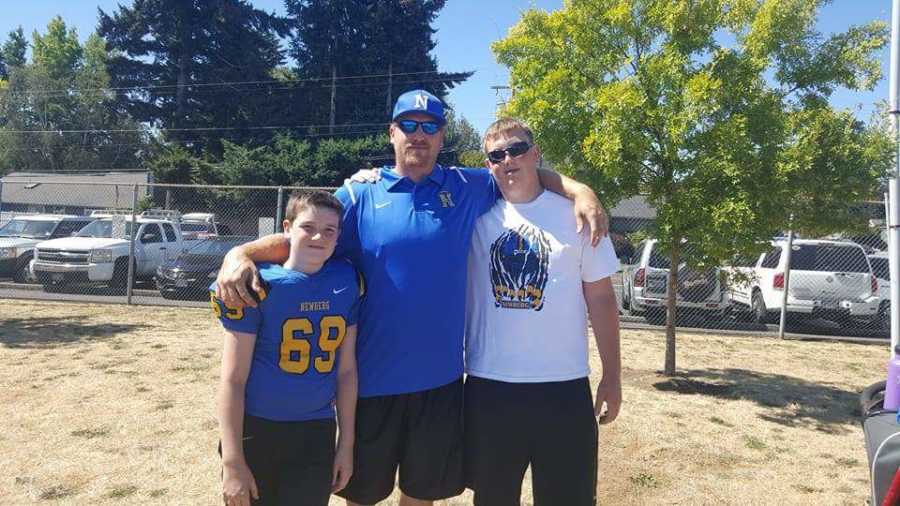 I was placed in more than 40 different boys' homes, group homes, foster homes, all different types of juvenile institutions and countless schools. I was told my entire childhood this sort of thing would never be possible for me. I was a broken child that would spend my life in prison or completely void of any normal life due to drugs. Now as a father of 3 amazing boys, I know my path in life always was and always has been my choice to make. I made the wrong choice more than I made the right ones, but in times like these, looking at how proud I am of my sons, I know I made the right one – the only one that matters.
We are not rich, we live paycheck to paycheck and struggle to pay our bills just like everyone else. I have a great career but a lot of the financial decisions I made living on the streets as a young adult have affected me being able to buy a home or use credit. But that doesn't mean we can't give ourselves, or our time. I try not to focus on the negative but the positives. My life could be so much worse. I feel so lucky to have beaten the odds – not for me, but for my sons. I would go through a thousand of my childhoods if it meant my sons didn't have to."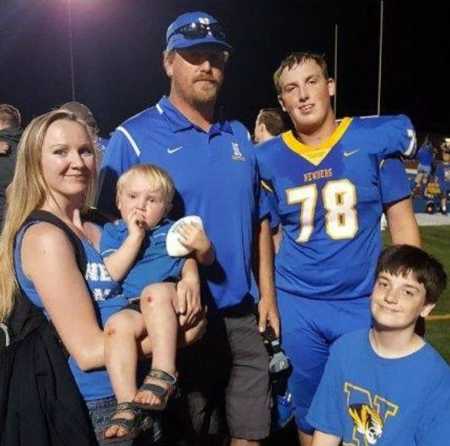 Much respect to you Blake for overcoming your situation and living a marvellous life with your family! I'm so glad you have 3 wonderful boys and a happy life you deserve. I'm sorry for all the hard times you experienced as a child and young adult. God bless you and your beautiful family.
The post As a 7-year-old, he tried to kill himself: Dad's heartbreaking story is a must-read for everyone appeared first on Happy Santa.