Aurora police detain Black family, later apologize for pulling over wrong vehicle
|
Police in Aurora, Colorado detained and handcuffed a Black mother and four children Sunday, after suspecting she was driving a stolen vehicle.
The vehicle was not stolen, and according to reports the vehicle Aurora police should have been looking for was a motorcycle with out of state plates, not an SUV with Colorado plates, which the mother was driving.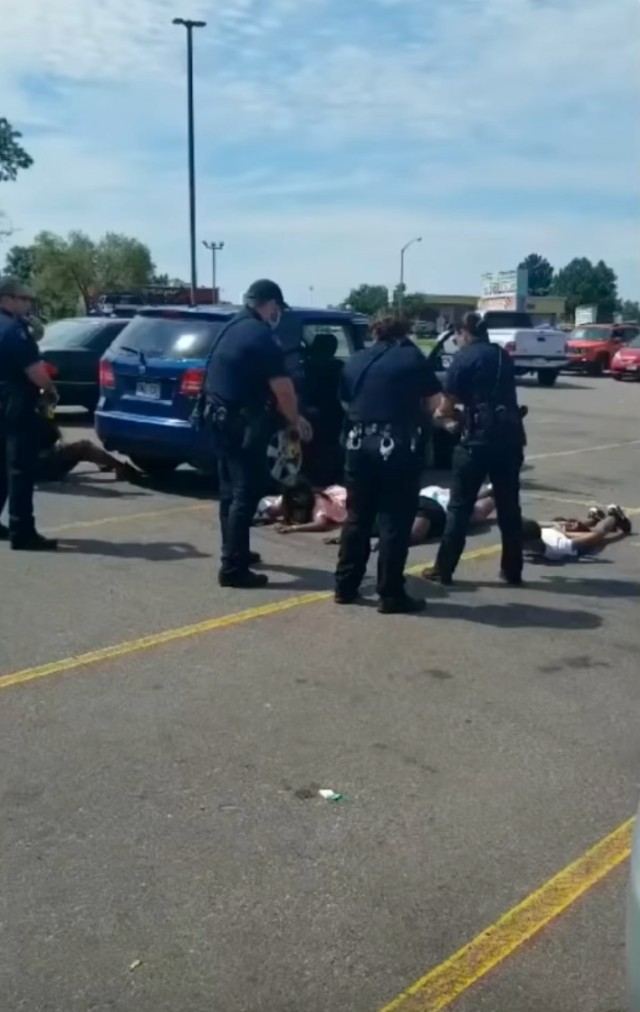 Brittney Gilliam, the driver, had taken her nieces, younger sister, and daughter out to get their nails done, but when they got to the salon it was closed. As they returned to Gilliam's vehicle, that's when the Aurora Police Department showed up with their guns drawn.
Gilliam and the children, ages 6-17, were ordered to lay face down on the ground. They were all handcuffed.
"If you wanted to place me in handcuffs at that point, I would have gladly agreed to that because you had a job to do and you did it under the right protocol, but you pointed a gun at four kids and then you proceeded to start handcuffing the kids," she told CNN.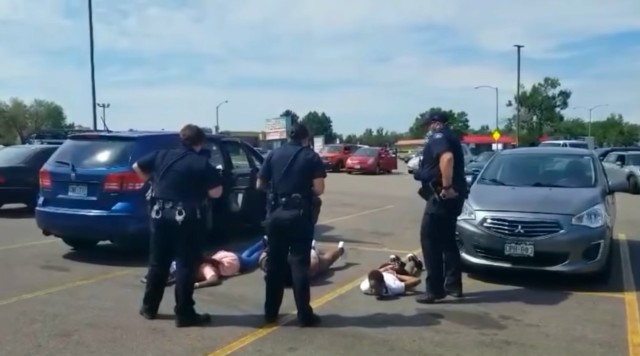 Witnesses recorded the incident and questioned the officers' actions.
"He's like something about the car being reported stolen," Gilliam told 9News. "And I'm like 'this happened months ago, you guys cleared it we got to pick up the car the next day the very next day so I'm not understanding what's going on.'" 
Her car had reportedly been stolen in February, but was found a short time after.
The family was eventually released and received an apology for the mixup, but not before they experienced emotional trauma.
"It's like they don't care," Teriana Thomas, Gilliam's 14-year-old niece said. "Who am I going to call when my life is in danger?"
On Monday, the department issued a statement and Interim Chief Vanessa Wilson issued her own statement.
"In a high-risk stop, weapons are drawn, and occupants are told to exit the car and lie prone on the ground," Agent Faith Goodrich with APD told 9NEWS. "There is not a written policy regarding when/how we use this stop. Officers can use discretion based on the information they have at the time."
Wilson blamed a license plate reader for the incident and have a protocol to follow when they encounter a "high-risk stop," however officers must learn to deviate from the protocol at times.
She also announced that an internal investigation had been opened.
In addition to personally apologizing to the family, Wilson stated that the city would cover any age-appropriate therapy for those involved.
This never should have happened. Officers should have been looking for the exact vehicle that had been stolen, not relying on a license plate reader.
Share this if you want to see appropriate action within the Aurora Police Department.
The post Aurora police detain Black family, later apologize for pulling over wrong vehicle appeared first on Happy Santa.