Black CNN correspondent arrested on air, dozens of reporters attacked during protests
|
As the number of protests have increased across the country, so have the number of reporters covering the demonstrations.
In addition to local media coverage, the protests in many cities, like Minneapolis are attracting national coverage. Reporters are getting as close as they can to the action without breaking any laws in order to show those at home what's going on.
However, in some instances those who are at the protests to report on the demonstrations have been attacked by the police and in one instance arrested.
While reporting live at the Minneapolis protests on May 29, Omar Jimenez, a black Latino CNN correspondent, was arrested by Minneapolis police.
Jimenez was standing with his four person crew in front of a line of riot police when they began to make a move to arrest a nearby person, according to Deadline.
The CNN correspondent informed the state police who he was and said his crew would move "where they would like."
Jimenez continued speaking with the state patrol and asked them to direct him to where he should stand. As Jimenez held his press badge, one officer held his arm and then proceeded to arrest him on air.
Outrage was swift.
"It was totally unacceptable and inadvertent what happened… they clearly had the right to be there, we want the media to cover this [the protests], it is never acceptable for this to happen," Minnesota Governor Tim Walz told CNN president Jeff Zucker.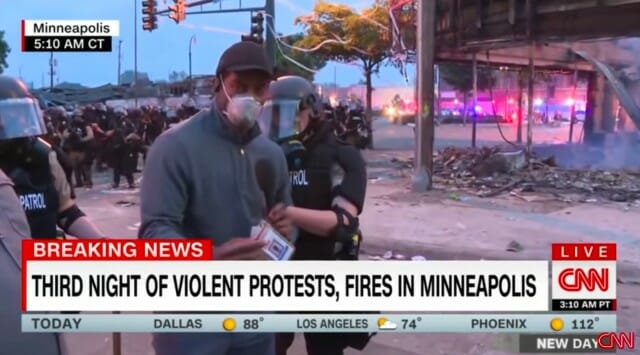 Jimenez was later released and Walz took full responsibility.
Unfortunately, it was only the beginning of the attacks against the press.
Also in Minneapolis a Reuters reporter and security advisor were hit by an officer's rubber bullets when the officer fired them directly at the crew.
"A police officer that I'm filming turns around points his rubber-bullet rifle straight at me," Julio-Cesar Chavez, a photographer for Reuters, said.
Kaitlin Rust, a reporter for WAVE 3 News in Louisville, Kentucky, became a victim when an officer reportedly fired pepper balls at her and her cameraman.
At the time, the two had been following police instructions. The station's general manager, Ken Selvaggi, issued a statement following the attack.
We strongly condemn the actions of the LMPD officer who tonight repeatedly fired at and hit our reporter and cameraman, both of whom were courageously and lawfully covering breaking news in their community. There is simply no justification for the Louisville police to wantonly open fire, even with pepper balls, on any journalists under any circumstances.
According to reports, since the protests have begun, more than 50 reporters have experienced some type of violence. The press is protected by the First Amendment and despite some cities, which have said journalists are not exempt from curfews, journalists have every right to be there to cover the events.
The press do not deserve to be treated as the enemy by the police or anyone else. They are present at the protests to report on the events and it is their right.
The post Black CNN correspondent arrested on air, dozens of reporters attacked during protests appeared first on Newsner English.