Credit union denies service to disabled veteran for not wearing a mask
|
While there's no federal requirement to wear a mask to prevent the spread of COVID-19, many states have either advised residents or required residents to wear face coverings when out in public. Typically, the only people exempt are young children and those with a medical condition that would prevent them from wearing a mask.
Recently, retired Master Sgt. Israel Del Toro visited the ENT Credit Union in Falcon, Colorado and was told he'd have to leave the credit union and utilize the drive-thru.
But he said that would be nearly impossible for him.
"I have such a hard time trying to grab that thing and usually end up dropping them, the canisters, obviously because I don't have- I'm missing fingers," he recalled saying to the credit union employee.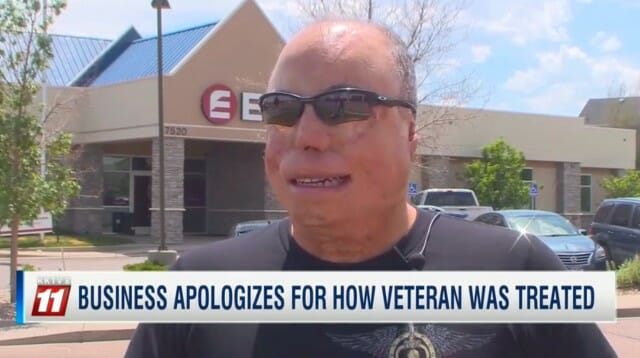 Del Toro was severely injured in a 2005 roadside bomb attack in Afghanistan. He suffered third degree burns over 80 percent of his body and lost many of his fingers.
As a result, he has no ears and it's difficult for him to breathe, and this makes it impossible for him to wear a mask.
"Not only can I not wear the ones around the ear because I don't have ears, but due to my medical condition I can't breathe [with one]," he said.
The veteran told KKTV that he explained his situation to the employee at the credit union and that's when they suggested he use the drive-thru.
"I felt almost defeated, because I can't believe this is really happening. Do people not have common sense anymore," he said.
Following the incident, which Del Toro said has happened several times since Governor Jared Polis announced business could deny service to anyone not wearing a mask, KKTV reached out to ENT Credit Union.
The credit union has since apologized to Del Toro and stated they were "embarrassed and disappointed" to learn Del Toro was not given the proper accomodations.
In addition to apologizing, they said they spoke with the representative involved in the incident.
"Sometimes a policy message can be interpreted as black and white, but we expect our staff to use good judgement in taking care of members. It's what we're known for, and in this case, we failed, and for that we are extremely sorry."
While an apology is great, this should have never happened in the first place. A person should never be discriminated against because of a disability.
Share if you agree.
The post Credit union denies service to disabled veteran for not wearing a mask appeared first on Happy Santa.