Customer orders one beer, but leaves a $3,000 tip behind for the staff
|
[ad_1]

As all of us at The BEER Heaven know, beer drinkers are the best kind of people on earth, but did you know they're also the most generous tippers?
Bartenders rely on tips so it's always a good idea to be generous to your servers, but in light of the hard times bars have gone through for the past year, one guy decided to give way more than the standard 20%.
The ongoing COVID-19 pandemic has greatly impacted bars and pubs across the world, as they have to adjust their businesses to social distancing and indoor dining restrictions.
Nighttown, a restaurant and jazz club in Cleveland, was one such place, voluntarily closing last Fall as numbers rose, hoping to reopen in Spring.
"We've actually had a really, really good summer. People have supported us unbelievably," Nighttown owner Brendan Ring told News 5 Cleveland.
"That's what made it even more difficult for me to make the decision to hit the pause button here again until the complications are sort of under control… It's going to be a hard winter in the restaurant business."
But right before shutting down in November, Nighttown got a very memorable final customer — one who ordered nothing but a single beer.
"Just before we closed today at Nighttown a customer walked in and ordered a beer and asked for the check and handed his credit card slip to me, wished me well while we sit out our voluntary shutdown and told me to share the tip amongst the wait staff," Brendan wrote on Facebook.
Brendan looked at the signed check, and was amazed by the number.
The man left a $3,000 tip, all on one single $7 beer.
"My eyes almost popped out of my head," Brendan told News 5.
That is a 42,735% tip. (Remember that next time you're grumbling about having to leave 20%.)
Brendan ran after the man, asking him if he made a mistake, but it was real. He wished them all luck during their closure, and opted to remain anonymous.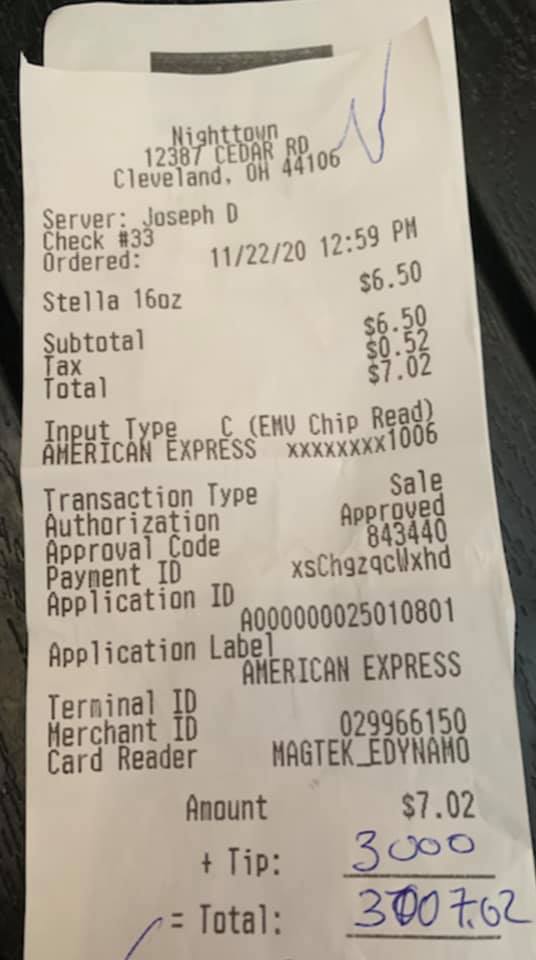 At a time when many in the food service industry are struggling and going without paychecks, it was a thoughtful and generous gesture.
"It's not all about money. I think personally, it's more about the gesture that was made and the unselfishness that was demonstrated," bartender Heather Sandow said. "The customers have been coming here over the years. They do care about us."
If there's one problem we have with this customer, however, it's that he didn't finish his whole beer: "He literally took two small sips out of it, signed his check and left."
In hindsight, it turned out to be a bittersweet moment for Brendan Ring, who has since sold Nighttown, citing a recent health scare and a changed perspective.
"My wife and I both had a couple of health issues this year," he told WKYC. "Where the COVID part comes in I would say, is when you get a little illness, you say to yourself it's time to stop and smell the roses. We've been working like crazy for 29 years."
Nighttown is set to reopen this summer, under new ownership. But it's safe to say that this anonymous tipper made for one memorable final customer.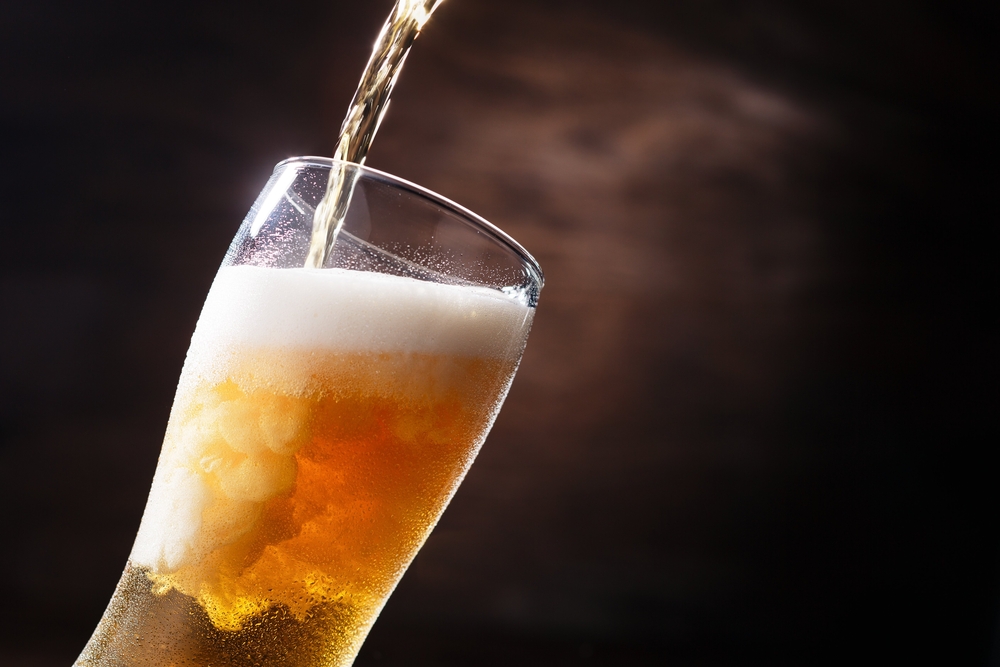 Thank you to this man for leaving such a large tip during this difficult time. You make all of us beer lovers proud.
Share this story to spread the goodness.
The post Customer orders one beer, but leaves a $3,000 tip behind for the staff appeared first on Happy Santa.


[ad_2]