Deported veteran finally allowed to return home to Texas – now a U.S. citizen
|
[ad_1]

For twenty years Frank De La Cruz fought to permanently return to El Paso, Texas, the place he's called home since he was six years old. Finally, on September 9 the U.S. veteran learned he was once and for all going to be allowed to go home to the United States.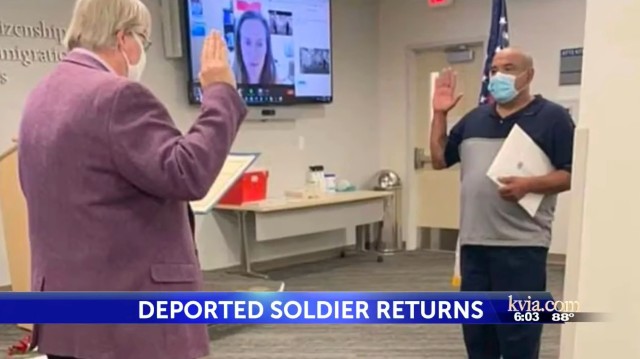 De La Cruz was born in Ciudad Juárez, Mexico and migrated with his family to the United States when he six years old. After graduating from high school in El Paso in 1989, he enlisted in the U.S. Navy and served for four years during the Persian Gulf War. He then served an additional three in the National Guard.
According to the Texas Tribune, he was a legal permanent resident at that time.
However, when De La Cruz returned from war he discovered he had a drinking problem.
"I didn't know how to cope with it, and drinking was a way out," he said.
"When we got to port, all we did when we got off the boat was drink," he told the Stateman in 2016. "Everybody in the military, their source of relaxation mostly is drinking."
De La Cruz got his first DWI and was subsequently deported.
"I never realized I could get deported. 'Shit, I was in the military — they can't deport me.' That was my thinking.'"
Life in Mexico
Not long after he had been deported, he found himself and other deported veterans being recruited by gangs.
"I had lost all hope," De La Cruz said. "I did not have any hope of coming back."
He lived in Juárez for seven years until his mom became sick and he crossed the border illegally to be with her.
For five years he lived in Texas illegally until he was arrested for another DWI, and once again deported.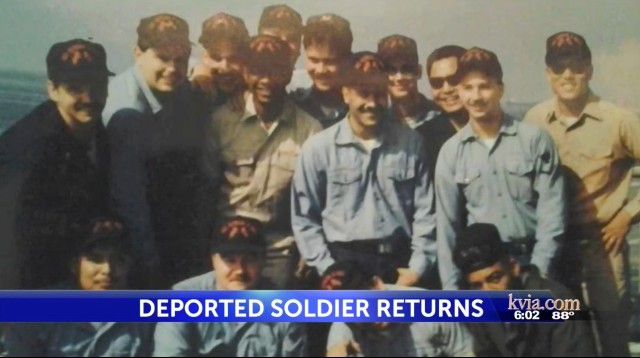 For several years his family lived with him in Juárez, but after awhile it was no longer realistic. Between the violence and long wait time for his children to cross back over to the United States to go to school, his family returned to El Paso and he stayed behind.
It wasn't until 2016 that finally some sign of hope was on the horizon.
Jennie Pasquarella, an attorney, had contacted De La Cruz and wanted to help him return home. Finally, with legal support De La Cruz was allowed to naturalize.
So when he recently showed up to the international port of entry for what he thought was a routine meeting about his case, he was shocked to learn he had been approved.
"It was so spontaneous," he said. "I did not think I was going to make it. I thought they were going to send me back to Mexico and then give me an answer later. But no, that same day I became a citizen then and there."
He's since taken the U.S. citizenship test and been sworn in as a U.S. citizen.
It's been less than a month since De La Cruz has been able to return home to his family, and he's acknowledged it will take some adjusting. He's already secured a job and has plans to register to vote.
"Despite everything that I went through, it was heartbreaking, but I would [serve] all over again," he said. "You know why? My family is American."
The post Deported veteran finally allowed to return home to Texas – now a U.S. citizen appeared first on Happy Santa.
[ad_2]