Exhausted firefighters sing together after 14-hour shift battling deadly wildfires
|
A crew of firefighters in Oregon are going viral after joining together in song following a 14-hour day battling flames.
According to reports, the group, known as the Grizzly Firefighters, from the Dalles, Oregon, had been waging war on the Lionshead Fire close to the community of Detroit.
Crew chief Theodore Hiner took to social media to praise the work of his crew, and to say that they'd still managed to make him laugh despite a tough day on the job.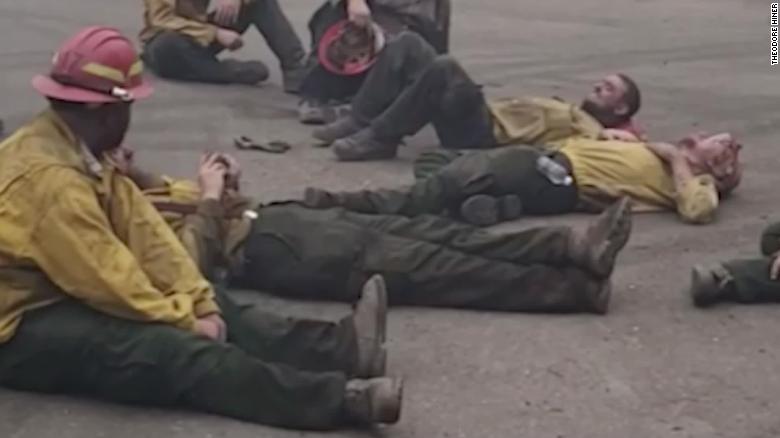 As per Hiner's Facebook post, the men had been "cutting line" all day, building a perimeter of mineral soil to prevent the fire from spreading further.
But that didn't stop them rallying at the end of the day and putting a degree of gusto into their rendition of "Take Me Out to the Ball Game". They switched the lyrics to make it more firefighter-friendly:
Take me out to the fire.
Take me out to the line.
Bring me some sawyers and hazel hoes.
I don't care if I ever get home.
Root, root, root for the red crew.
You know we want the most days.
For it's 1, 2, 3 tool types out at the old fire line.
According to CNN, Oregon Gov. Kate Brown revealed how her state usually sees 500,000 acres a year burned by fires. In just one week, however, they've now lost over one million.
Hiner's 20-person crew has reportedly been in the Detroit Area of Oregon for 10 days. Hiner's family were forced to evacuate their home while he's out battling the fires, but thankfully everyone made it out safe.
I can't thank our brave firefighters enough for the selfless and extremely hard work they continue to do. Please join us in praising their courage.
Share this article if you have nothing but the utmost respect for our firefighters!
The post Exhausted firefighters sing together after 14-hour shift battling deadly wildfires appeared first on Happy Santa.