Faith Hill surprised by Tim McGraw for 23rd wedding anniversary
|
Faith Hill and Tim McGraw are one of the power couples in the music industry. They've been through plenty since the couple wed in October 1996, having three daughters and producing wonderful music throughout the years.
Since both Faith and Tim travel a lot, performing in front of thousand and thousands of people, it can sometimes mean that their own special days get pushed aside.
That happened as the celebrity couple celebrated their 23rd anniversary. But Tim McGraw had it all planned out, giving his wife the most wonderful anniversary present ever.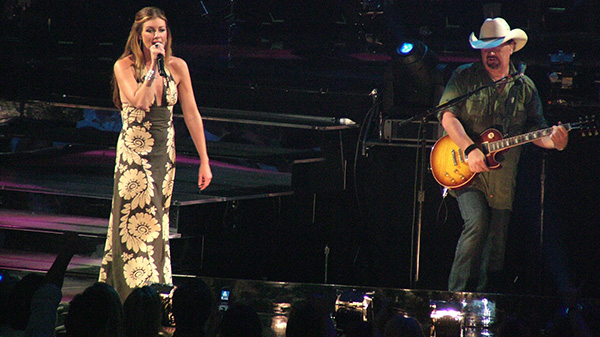 Having a family comes with plenty of sacrifices. But in the end, it's all worth it, having the privilege of loving the ones that are closest to you.
Tim McGraw and Faith Hill, who have one of the strongest and most loving relationships in the music industry, knows all about it.
Faith Hill and Tim McGraw
Faith Hill started her successful career with releasing the debut album Take Me as I Am in 1993. The Song Wild One became an instant success, with Hill becoming the first female country singer in over 30 years to hold Billboard's number one place for four consecutive weeks.
As for Tim McGraw, 1994 was also a successful year. With his second album Not a Moment Too Soon, he made sure to deliver what was going to be the best-selling country album of the year.
And of course, 1994 would be a year that was the start of a love story as well.
Tim and Faith met for the first time back in 1994, backstage at the CRS New Faces show. The same year, Faith Hill divorced her first husband Daniel Hill.
READ ALSO: Pierce Brosnan's son Dylan is all grown up – this is him today
The meeting between the two would turn out to be the beginning of a love story like the ones in fairy tales.
Just two years later, when McGraw was planning his 1996 tour, he asked his team to reach out to Faith Hill. She joined him for the Spontaneous Combustion tour, with sparks beginning to fly.
Proposed in dressing room
They performed together every night, and following a gig, McGraw kissed her in his dressing room.
Hill was engaged to record producer Scott Hicks at the time, and called it off when she started to have feelings for McGraw.
In October later the same year, the two got married in Rayville, Lousiana.
In an interview, as quoted in Us Magazine, McGraw looks back on the wonderful moment that he proposed to his beloved wife.
"We were in the dressing room, here, June 26, 1996, and it was raining and stuff and we'd been on tour for a while together, and I joked around with her about getting married," McGraw recalls.
"And so I looked at her, grabbed her by the hand, and dropped forward [on my knees] on stage. "She said, 'We're at a country music festival in a trailer house, and you're asking me to marry you?' And I said, 'Yeah.' So I went onstage … When I came back offstage, [I saw] a Sharpie with lipstick kisses all over it, saying, 'Yes! I'm gonna be your wife.'"
Tim and Faith continued touring, receiving awards and recording hit songs that was played on radio stations all around the world.
At the same time, the celebrities started a family. In 1997 they had their first daughter Grace, Maggie in 1998 and Aubrey in 2001.
Faith Hill and Tim McGraw – family
Now, more than 20 years later, they have raised three daughters.
Two of them, Gracie and Maggie, have already moved out of their house to attend college. This fall, Audrey will also leave for school.
In an interview with Today, Tim said it's tough so see their beloved children leave. At the same time, they will be empty nesters with plenty of time to spend together.
"You want them to go out and conquer the world and have fun and do all the things that kids do. But you don't want them to leave your protection, and you certainly don't want to feel like they don't need you anymore," Tim said.
Marriage isn't always easy, which Tim and Faith also got to experience.
In 2008, McGraw collapsed due to dehydration. He had to cut his set short at the Country to Country festival in Dublin.
Friends started to worry about the country star, who before that always drank before concerts.
"It was exactly my process," McGraw said to People in 2013. "Basically, I am an unsure, self-conscious, shy person. That is how I started — even when I was in college, before I would get on stage, I would start drinking. I would start drinking to stop shaking."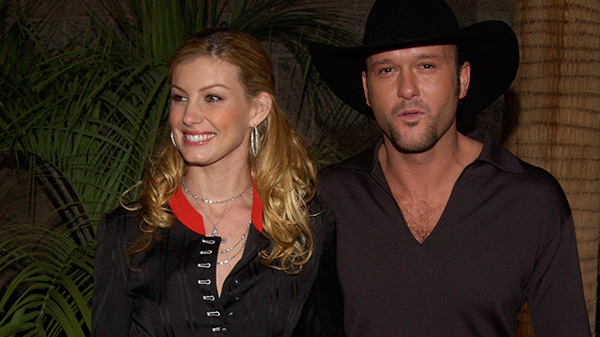 It was during that time that then 11-year-old daughter Gracie also noticed something that changed her fathers health.
McGraw was 215 lbs. at the time, and Grace told him the he looked "big on screen."
"Faith saved my life"
Since 2008, McGraw's been sober, working out and taking care of his body. He did it for his friends, daughters and wife Faith, the later who he says saved his life.
"I would have partied too hard," he told People. "Faith saved my life in a lot of ways — from myself more than anything. I can go down a dark road sometimes, when you're not feeling good about yourself, and she pulls me out. My wife makes me a better man."
In October, Faith and Tim will celebrate their 24th anniversary. They always do it together, but last year, several time zones made it impossible.
Tim McGraw was far far away, working. But that didn't stop him from giving his wife the most romantic gesture ever.
"I was in Australia, I think, this was the first anniversary we were apart," McGraw explained on The Kelly Clarkson show. "We were backstage and I recorded the very first song we ever did together. We did the Spontaneous Combustion Tour where we met when she was opening for me on my very first headlining tour, and we used to do the Tony Rich song 'Nobody Knows It But Me.' So I recorded it backstage with the guys and sent it to her."
READ ALSO: Tom Selleck quit 'Magnum P.I' at height of his popularity to escape the fame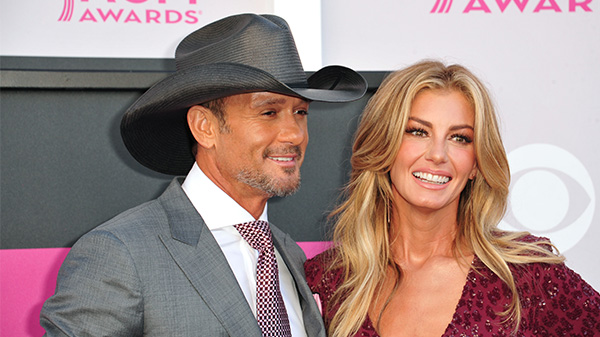 Tom and Faith sure are a music business power couple, great friends, deeply in love and with a wonderful family..
During the covid-19 pandemic, the couple spent quarantining with their daughters in Tennessee. Gracie's now 23 years old, Maggie 22 and Audrey 18.
Lovely picture
Even though it's been tough, Tim says that the great relationship with Faith hasn't chanced
"For us, during all this stuff that's going on and being at home together and hanging out, there's been a lot of sort of nostalgia that's come along with that — looking back through old photos, and going back and watching movies that we haven't seen in a long time, and cooking things that we grew up eating when we were kids, and telling our kids stories about, McGraw said according to Pop Culture"
Hill-McGraw has been through a lot, from touring together, singing and travelling to getting married, starting a family and giving all their love to friends, family and fans.
Via Instagram, on Sep. 21, Tim McGraw posted a new picture of the couple, celebrating Faith's birthday.
Celebrating 24 years of marriage in October, it looks like Faith Hill and Tim McGraw are doing amazing.
We can't wait to hear more from these stars in music, and what the future holds regarding their family and new music.
Please, share this article with friends and family if you also think Faith and Tim are a wonderful couple!
The post Faith Hill surprised by Tim McGraw for 23rd wedding anniversary appeared first on Happy Santa.