Family demands answers after partial remains of Fort Bragg paratrooper wash ashore in North Carolina
|
Spc. Enrique Roman-Martinez's family is demanding answers after the Fort Bragg paratrooper's partial remains washed ashore at the end of May.
It's been nearly two months and his family says they've been given very little information regarding the 21-year-old's suspicious death.
"I knew my brother and he didn't deserve this," Griselda Martinez, Roman-Martinez's older sister told KTLA. "You feel guilty at the end of the day that you weren't there for him."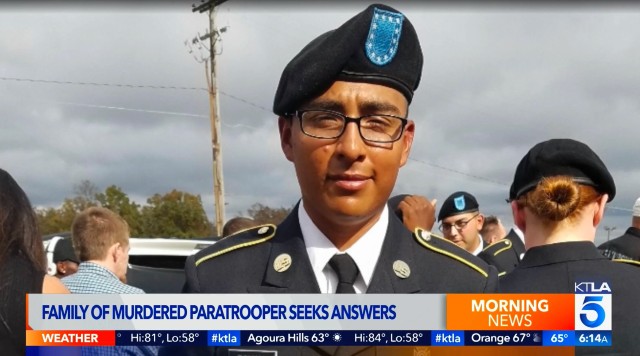 Roman-Martinez was last seen on May 22. He was camping over the Memorial Day weekend with seven other soldiers when he mysteriously disappeared.
An unidentified person called 911 to report him missing 19 hours after he was last seen, around midnight on May 22. At the time he was supposedly only wearing shorts, which his sister found odd.
"Because my brother can't see without his glasses, so for him to walk out in the middle of the night without his glasses, it's not likely. He can't see, where would he go?" Martinez told KABC.
One week later, Roman-Martinez's partial remains were discovered.
"My mom and I lose sleep over it. Did he suffer? Did they make him suffer? Was he crying out for us? was he crying out for my mom? It hurts," Martinez said.
Since the discovery, the family hasn't been given much information from the Army.
No suspects or motive have been released in relation to the case.
On Thursday, Major General Christopher Donahue, the commander of the 82nd Airborne Division, of which Roman-Martinez served in, issued a statement.
"We are doing everything we can to support his family and find justice for Enrique. I've personally spoken with his family to assure them that we will not stop in our pursuit to bring those responsible to justice."
A $25,000 reward is being offered to anyone with information leading to the apprehension and prosecution of a suspect.
Enrique Roman-Martinez deserves justice and his family deserves answers.
Share if you agree.
The post Family demands answers after partial remains of Fort Bragg paratrooper wash ashore in North Carolina appeared first on Happy Santa.