Federal judge whose family was attacked shares son's final words and demands protection for judges
|
Two weeks after her son was killed and her husband was wounded during a shooting at their North Brunswick, New Jersey home, US District Court judge Esther Salas is speaking out.
In a video published on YouTube, Salas recalled her final moments with her son, Daniel Anderl, and explained the lack of privacy federal judges are given despite "making tough calls" that often leave people angry at them.
Salas described the final days she and her husband, Mark Anderl, spent with their son as one "filled with love, laughter, and smiles." Their son celebrated his 20th birthday with friends the weekend a "madman" came to their home and shot and killed Daniel and wounded Mark.
She said that after his friends had left, he had stayed at home, while she and her husband went to church. When the two arrived home, they began to clean their home.
"Daniel and I went downstairs to the basement and we were chatting, as we always do. And Daniel said 'Mom, let's keep talking, I love talking to you, Mom.' It was at that exact moment that the doorbell rang, and Daniel looked at me and said, 'Who is that?'"
Salas said within seconds, Daniel ran upstairs and moments later she "heard the sound of bullets and someone screaming, 'No!'"
"Daniel being Daniel, protected his father and he took the shooter's first bullet directly to the chest," Salas said. "The monster then turned his attention to my husband and began to shoot at my husband, one shot after another."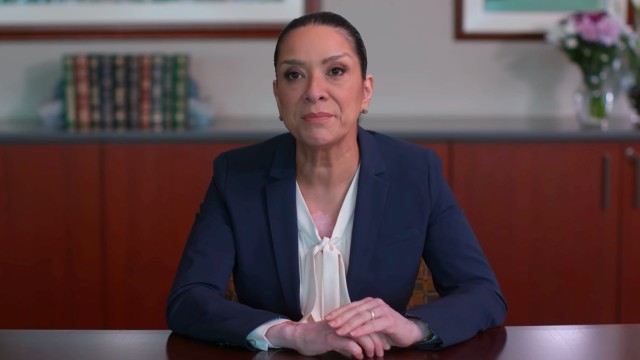 Salas, who shared that Mark is still in the hospital recovering from multiple surgeries, also called for more protection for federal judges.
She noted that judges' personal information is easily accessible online, and anyone who wants to do them or their families harm do not have to put forth much effort.
In her case, the shooter knew her family's address, where they attended church, and had a dossier on her family.
"At the moment there is nothing we can do to stop it, and that is unacceptable."
"My son's death cannot be in vain, which is why I am begging those in power to do something to help my brothers and sisters on the bench," Salas said.
Salas said that she understood it's difficult to come up with a solution, something she's not sure of herself, but something must be done to protect other families from going through what she and her husband are currently dealing with.
"We may not be able to stop something like this from happening again, but we can make it hard for those who target us to track us down."
Do you believe it should be harder for people to obtain personal information about federal judges? Let us know on Facebook.
The post Federal judge whose family was attacked shares son's final words and demands protection for judges appeared first on Happy Santa.