Goldie Hawn's daughter tells incredible story of moment when her mother fell in love with Kurt Russell
|
Hollywood is full of love. However, many relationships in the world of show business doesn't last that long.
That's not the case with Kurt Russell and Goldie Hawn, a bond that seams unbreakable.
The two have been together for almost four decades, and the story of how it all started is more than wonderful. In fact, the celebrity couple's children now explains exactly what happened.
There are many things going on with celebrity relationships, and almost every week, you get to read up on people dating someone new.
Goldie Hawn and Kurt Russell
No matter if a person is a celebrity or not, seeing two people in love, engaging in a long relationship always makes me happy.
The couple that makes me happier than the rest however, is Kurt Russell, 69, and Goldie Hawn, 74.
Goldie and Kurt have been together for 37 years. They've been superstars on the big screen for a long time, and at the same time, been able to share a loving relationship and great devotion to their family.
The iconic and long-lasting couple's commitment to each other is something special, and the love story through the years is even more incredible.
READ ALSO: Tom Selleck quit 'Magnum P.I' at height of his popularity to escape the fame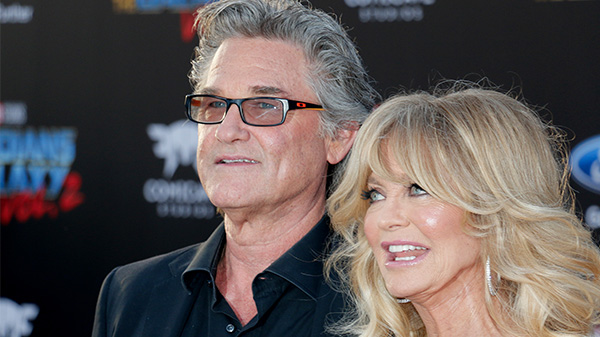 Goldie and Kurt first met while filming The Only and Only, Genuine Original Family Band in 1966. Hawn recalled the meeting in an interview with BBC Radio 4.
"I was 21 and he was 16," Hawn said. "I thought he was adorable, but he was much too young. Then, years later we met up again, and I remembered that I liked him very much when I first met him. We both said we would never go out with another actor so it just shows you never can tell."
However, they weren't ready to start dating quite yet.
Goldie Hawn married actor Gus Trikonis in 1969, with the couple separating after four years. She was granted a divorce in June 1976 and married Bill Hudson just a couple of weeks later, a marriage that lasted six years.
Wonderful love story
In 1983, Russell and Hawn met again while filming Swing Shift.
This time, the charming and handsome Russell tried to impress Hawn with the pick-up line: "Man, you've got a great figure."
"I was severely hungover and I didn't know Goldie at all outside of having worked with her those many years before," Russell said in a 2017 interview with Conan O'Brien. "I just didn't have in my mind what I was going to see, and she had a great body. So the first thing that came out was, 'Man, you've got a great figure.' It came out quickly and it could've gone wrong, and she said, 'Why thank you.'"
At the time, Goldie had two children from her marriage with Bill Hudson. Her son Oliver was born Sep. 7, 1976, and daughter Kate was born Apr. 19.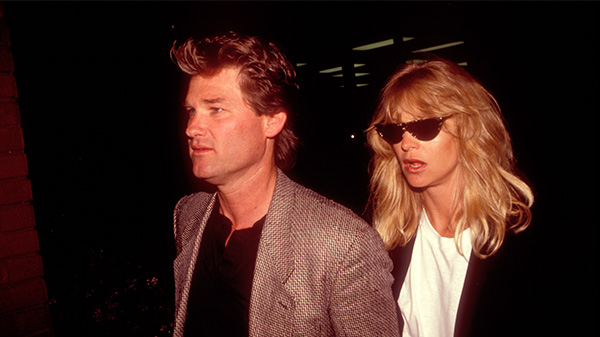 While filming Swing Shift, Kurt and Goldie went out together one night after work. He brought her to The Playboy Club, where they spent hours and hours talking.
Afterwards, they decided to move the party to a new house which Hawn had bought. The only problem? She didn't have the keys, which resultet in the two breaking in.
The police later arrived, but it was surely an iconic first date. And following that, nothing could split the two lovebirds.
It's been 37 years, but Goldie and Kurt are still deeply in love.
Her children Oliver and Kate Hudson moved on to work in movies themselves. Oliver's known for his role in the comedy series Rules of Engagement, with his sister being a real movie star.
Her breakthrough came in Cameron Crowe's semi-autobiographical comedy-drama Almost Famous, where she played the role of a veteran groupie. Hudson won the Golden Globe Award for Best Supporting Actress and was also nominated for an Academy Award for Best Supporting Actress.
Even though Goldie Hawn's children are well-known and busy actors, they have dinner together quite often, since Kate lives just down the street from her mother.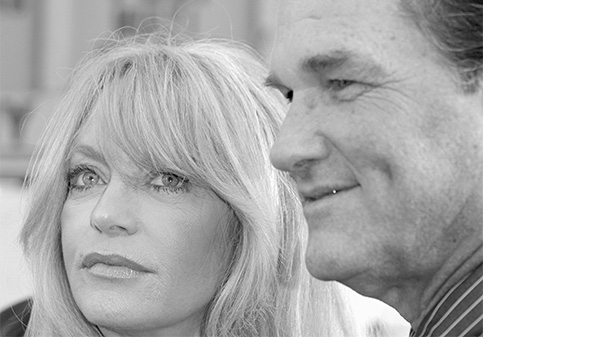 When Goldie turned 60, Kurt Russell took the entire family to Tahiti where they spent a lovely vacation together.
"It's always so much fun when we all meet up. We are very, very close and see each other as often as we can", Goldie told the site Now To Love.
Seeing the kids changed everything
Kate and Oliver have their own podcast named Sibling Revelry. And in one of the episode, Goldie's children explains the moment when Kurt stole their mothers heart.
At the time, Kate recalls being about three years old and Oliver being six.
"It was the first time he brought him home to the house, wasn't their first date, but it's a beautiful story," Kate said. "We were living in deep Malibu and mum said that was when she fell in love with Kurt, right away, because she bought him back to the house and we were already asleep.
Kate and Oliver shared a room, with Kurt Russell walking in and sat down next to the children.
"He sat down next to you [Oliver] first, and watched you sleep. Then came by to me. I believe he watched me longest, Kate explains. "According to the story when mum tells me the story. I was the last one he was watching and was there for longer."
READ ALSO: Maggie McGraw – the middle daughter of Faith Hill and Tim McGraw is now all grown up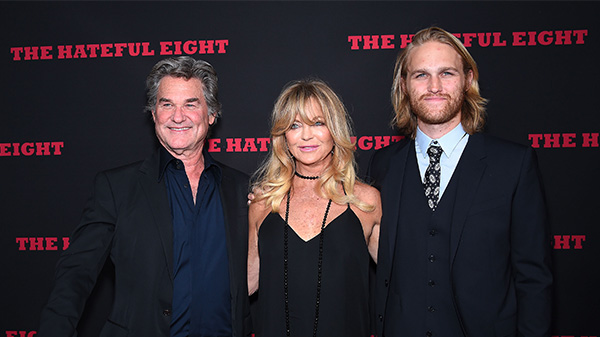 They later welcomed their son, Wyatt Russell, in 1986.
Kurt and Goldie's had great careers in show business, still acting in movies. They usually don't watch the films they've starred in , but once, they made an exception.
In 1987, they starred in the movie Overboard, and watching it together to remind them of their beautiful relationship.
"You know how sometimes you forget why you fell in love? I remembered everything, and why I fell in love. It was really something to be able to watch that," Goldie told James Corden in 2017.
Goldie and Kurt have been together for almost four decades. However, they've decided not to get married.
According to the couple, this is the reason why their bond is so strong. The kind of love and devotion they have is more than just special. And at the same time, Goldie explains that the key to a healthy relationship is not to spend every single hour together.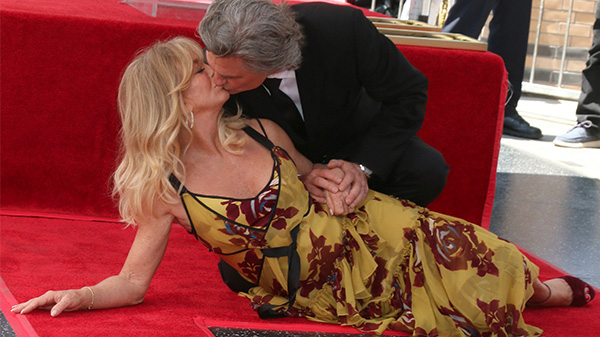 "We have done just perfectly without marrying. I already feel devoted, and isn't that what marriage is supposed to do?" Goldie told Woman's Day in 2007.
Children and grandchildren
The last decade surely has been special for the Russell-Hawns.
They got six grandchildren, and through Instagram, they have been seen giving their love to the smallest members of their family.
The movie stars were captured on camera by daughter Kate, holding their new granddaughter in a very special moment a couple of years ago.
When posted on Instagram, millions of fans reacted with adoration and sent the most lovely messages.
Kurt have revealed that their grandchildren doesn't call them Grandma and Grandpa. Instead, they go by Gogo and Gogi.
Here's Oliver Hudson together with his daughter Rio, born in 2013.
It's not hard to figure out who Rio gets her goofy personality from.
In 2018, Kate Hudson had her first child with husband Danny Fujikawa. She was named Rani Rose Hudson Fujikawa.
Look how precious she is!
Grandchildren and children of Russell-Hawn got to share an amazing moment together in May 2017, when the legendary actors had their names immortalized on the Hollywood Walk of Fame.
The couple even shared a loving moment during the ceremony, kissing each other in front of the stars.
Deeply in love
Being together for 37 years, it's important to remember showing each other love every single day.
Through Instagram, both Goldie and Russell make sure to remind themselves, each other and all the fans that they're deeply in love.
They're teaching all of us one or two things about making a relationship work, but at the same time, they are true to each other about difficulties that they will face along the way.
For Fathers Day, Goldie Hawn posted a picture of the two together with some lovely words.
"Nobody laughs like him and nobody loves like him. Happy Father's Day to you my angel", Goldie wrote.
In just a couple of months, the couple will also be seen together in the movie The Christmas Chronicles 2, where Goldie takes center stage besides her beloved husband.
During the covid-19 pandemic, Goldie and Kurt have been in quarantine together. Even though she's a great entertainer, the long days without being able to do anything special has been tough, Goldie revealed in an interview with Good Morning Britain.
"We're very, very lucky and I'm incredibly grateful, but what I do feel is a tremendous angst, a tremendous sadness," she said.
READ ALSO: Kristy McNichol's life and struggles after 'Family' ended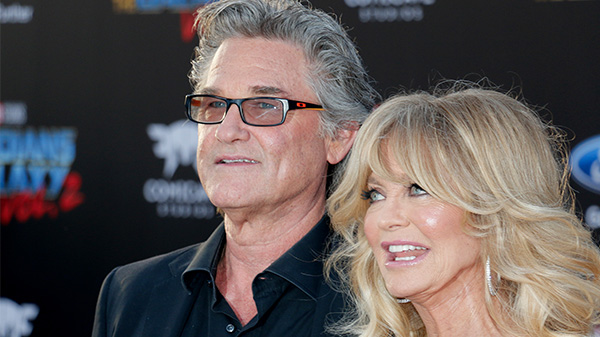 The star couple have been spending time in the mountains together with their kids and grandchildren.
At the same time as the lockdown's been a challenge, it has also brought something else to the relationship between the two.
It surely is a close-knit family.
"When I wake up, Kurt brings me coffee, which is just the sweetest, and it starts the day of great. I have my dogs in the bed with me, and I snuggle with them for a while," Hawn told Hello Magazine in early september.
"We have breakfast with the kids and sit around and talk. And then I go on a bike ride with Kate [Hudson]. As scary as this time is, I try to savor every moment because I get to be with my family."
Goldie Hawn and Kurt Russell truly are an inspiration on how to make a relationship work in the long run. They are deeply in love, and we wish them all the best in the future.
Please, share Hawn and Russell's story with your friends and family.
The post Goldie Hawn's daughter tells incredible story of moment when her mother fell in love with Kurt Russell appeared first on Happy Santa.