Grieving mother discovers son's grave decorations were thrown in the trash without warning
|
[ad_1]

A North Carolina mother is rightfully upset after she visited her son's grave only to find that the decorations she previously laid out had been removed and thrown in the trash.
"What hurt me so bad was not the flowers, but the personal stuff, the cologne, his hat, that's what hurt me," Liz Collins said.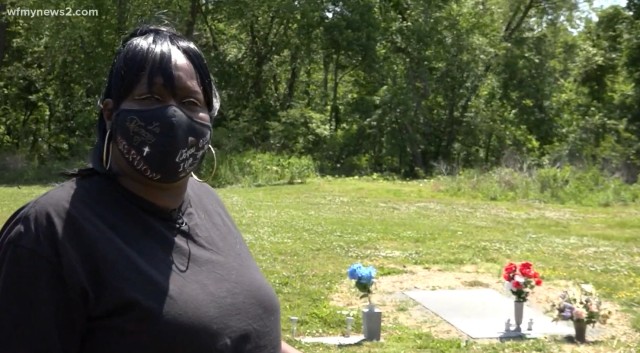 Collins visited her son's plot at Piedmont Memorial Park Cemetery in Greensboro, North Carolina days before Mother's Day. She wanted to add more decorations to her son Stephon's grave plot.
"I was making it into an angel garden," she said. "He was my child. I was putting all different kinds of flowers, and I was collecting all kinds of angels."
Every two weeks for the past ten months, when her son died from heart failure, Collins has been visiting his grave.
And it was during her most recent trip that she discovered all the mementos she placed on his plot were gone.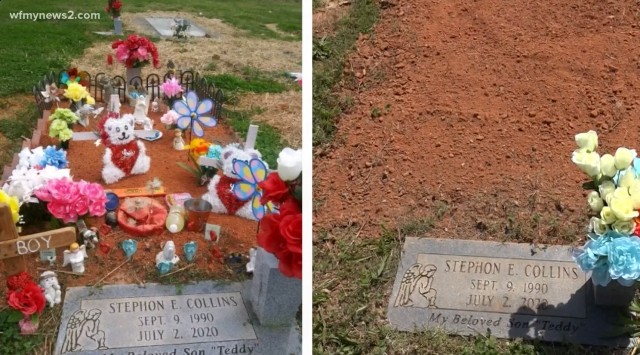 Someone had taken all of the decorations on her son's and nearby graves' and thrown them in the trash.
"I had to dig it out of the trash," Collins said. "What hurt me so bad was not the flowers, but the personal stuff, the cologne, his hat, that's what hurt me. It was thrown in the trash like he was a dog. Not just him, they did a lot of people's graves down here like that."
During her visit she noticed new signs that said "decorations or flowers that become unsightly are removed weekly" and artificial and fresh flowers may be used, but other forms of decorations that have not been approved will be removed.
She said she was never told about the new rules.
The cemetery's caretaker refused to comment on the rules, and the city stated that since the cemetery is privately owned, it is out of their hands.
Now Collins wants to alert others so they don't have to experience the same trauma she experienced when she visited her son's grave.
"My son's items are not trash," she said. "What kind of heart do they have? They are cold hearted. They are very cold hearted. How would you feel if that was your child, your loved one? Especially on Mother's Day holiday."
Do you think the cemetery should change their rules to allow more decorations?
Share this article and let us know your thoughts.
The post Grieving mother discovers son's grave decorations were thrown in the trash without warning appeared first on Happy Santa.
[ad_2]