High school senior who attended in-person class on his designated remote day suspended for 5 days
|
After an extremely odd ending to the 2019-2020 school year and a bizarre summer, students are back in class for the 2020-2021 school year.
And since COVID-19 is still prevalent in the United States, not only does class look a little different this year, but it also varies from school to school.
For Maverick Stow, a senior at William Floyd High School on Long Island, returning to school means hybrid learning.
Something the 17-year-old doesn't agree with.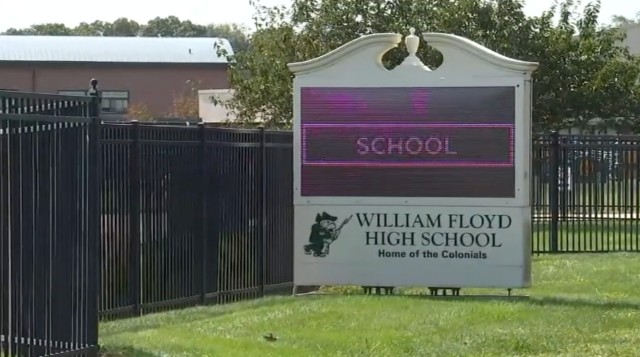 On September 8, the first day of classes, Maverick reported to his high school for class.
After he got off the school bus he got his temperature taken and then proceeded to his first period class.
That's when his presence at school became an issue.
Maverick went into school on a day that he was supposed to be at home as a remote learner.
"It wasn't my day to go to school but obviously, I disagreed, so I went into class," he said. "I wasn't on the roster so the assistant principal got involved."
The high school senior was told to leave school grounds.
Despite being warned that he would be suspended, Maverick refused to leave and instead returned to class.
Although he was able to finish the school day without incident, at the end of the day he was informed by administrators that he was being suspended for five days.
"I was going to school like students should be going to school. I think that a five-day suspension is out of line," he told ABC7.
While he reportedly received mixed reaction from his classmates, his parents fully support him.
"Kids need to be in school every day. Virtual learning is not learning," his mother, Nora Kaplan-Stow said. "My son is being suspended because he wants to be in school."
Maverick said he made his decision to attend classes every day as soon as his district announced plans for hybrid learning.
"I didn't think it was acceptable," he said. "I figured I would go to school and it would be a 'them' problem, to figure it out."
James Montalto, spokesman for the William Floyd School District, said the district is following guidelines set by New York State and in order to adhere to them, all 8,800 of the district's students must follow the hybrid model.
Do you agree with administrators' punishment or is it too harsh?
Let us know on Facebook.
The post High school senior who attended in-person class on his designated remote day suspended for 5 days appeared first on Happy Santa.