'I Dream of Jeannie' star Barbara Eden opens up about turning 90: 'I'm just happy to be here'
|
[ad_1]

Generations of TV viewers have watched I Dream of Jeannie, the classic 1960s sitcom about an astronaut who brings home a 2,000-year-old female genie.
While the premise might sound silly, viewers tuned in and laughed, thanks to the talented and beautiful actress at the center of it all: Barbara Eden, who played Jeannie.
Fans might find it hard to believe, but Barbara is turning 90 this summer! And while it's been a long time since she's worn her famous harem outfit on TV, she's still going strong and keeping busy.
Recently, she opened up in an interview about her upcoming birthday and the projects she has lined up.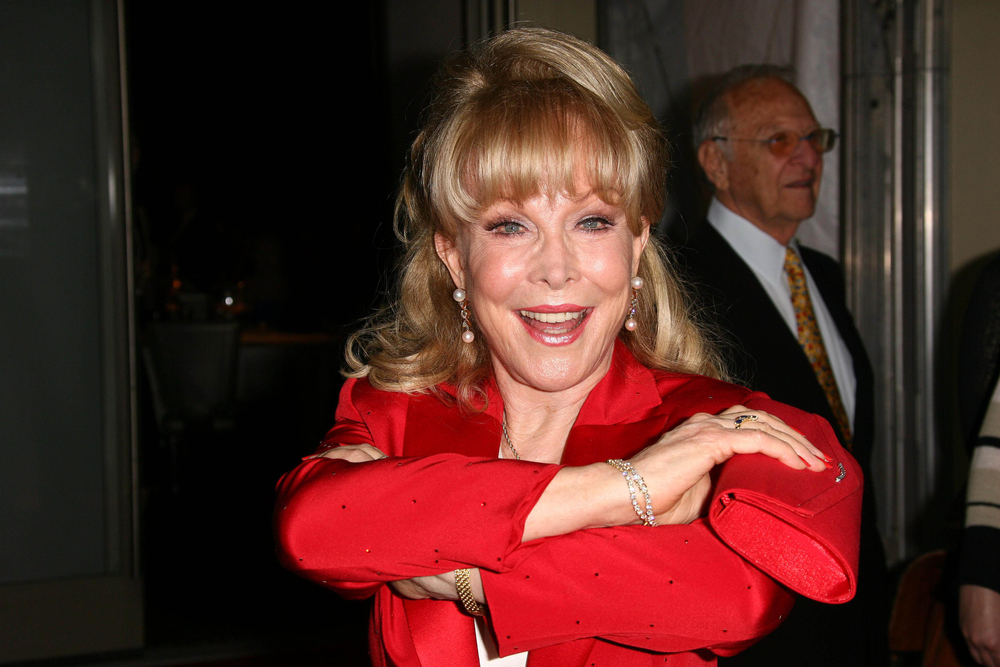 Eden is 89, and will celebrate her milestone 90th birthday on August 23. But in an interview with the Hollywood Reporter, she said she feels that age is but a number.
"It's like any other birthday, I'm just happy to be here," she said. "I really don't think about it. Everybody else does but I never have. I'm looking forward to going back to work."
Despite her age, Eden is far from retired. She's continued to work — and only a global pandemic could slow her down: "I was working up until the shutdown point last March," she told the Hollywood Reporter.
In fact, Eden revealed that, despite taking all health precautions, she and her husband tested positive for the coronavirus, although thankfully she had only a mild case and received antibody infusions: "It was the lightest case of COVID I think anyone's ever had in the whole world."
Now, Eden is eager to get back to work, and has a few projects lined up. She authored a children's book called Barbara and the Djinn, about a subject Eden is familiar with: a girl who finds a genie.
She's also looking forward to performing again, and already has a show lined up for next February, appearing in a show with impressionists The Edwards Twins. "I'll do a little singing and we'll probably have interaction with the audience," Eden said. "It'll be fun. I'm really looking forward to it."
Eden had a singing career after Jeannie, appearing as a musical guest on many TV variety shows and starring in national tours of Broadway musicals. She starred in the film and TV series Harper Valley PTA, and acted in hit shows like Dallas.
But of course, she'll always be best remembered as Jeannie, and Eden says she has no regrets about her time in 1960s TV, though she "doesn't miss a thing."
"I'm very happy that I lived during that time," she told the Hollywood Reporter. "I'm happy that I had my beginnings then, but things change. What a wonderful time now, more actors are working than ever before with all of the companies like Netflix and Amazon, all of these movies and TV shows they are producing."
Another big difference between now and the 1960s: what is considered "too revealing" to be on TV. Viewers of I Dream of Jeannie might remember that while Eden's genie outfit revealed her midriff, her navel was always kept from sight.
"Executives at NBC got very frightened," she told Today in 2015, near the show's 50th anniversary. "They became very strict about the navel."
And Eden said it was actually a another much older interview with the Hollywood Reporter that helped spread that legend, after her friend and columnist Mike Connolly kept teasing her about the issue.
"When Mike came in and started teasing me about my belly button, it spread like fire and spread around the world. We had a good time with it and I would tease him back, but I had no idea it would become something."
Barbara Eden looks amazing for someone almost 90, and we're so glad she's still at it all these decades later!
Share this story if you love Barbara and I Dream of Jeannie!
The post 'I Dream of Jeannie' star Barbara Eden opens up about turning 90: 'I'm just happy to be here' appeared first on Happy Santa.


[ad_2]