Jimmy & Rosalynn Carter encourage people to 'wear a mask to save lives'
|
Former president Jimmy Carter is now 95 years old, but he's far from slowing down.
In the four decades since he left the White House, Carter has had the busiest post-presidency ever, doing great charity work through the Carter Center and Habitat for Humanity, which he continues to do today.
And in his old age, he's been setting a lot of milestones: he's now our longest-retired president and the oldest surviving president ever.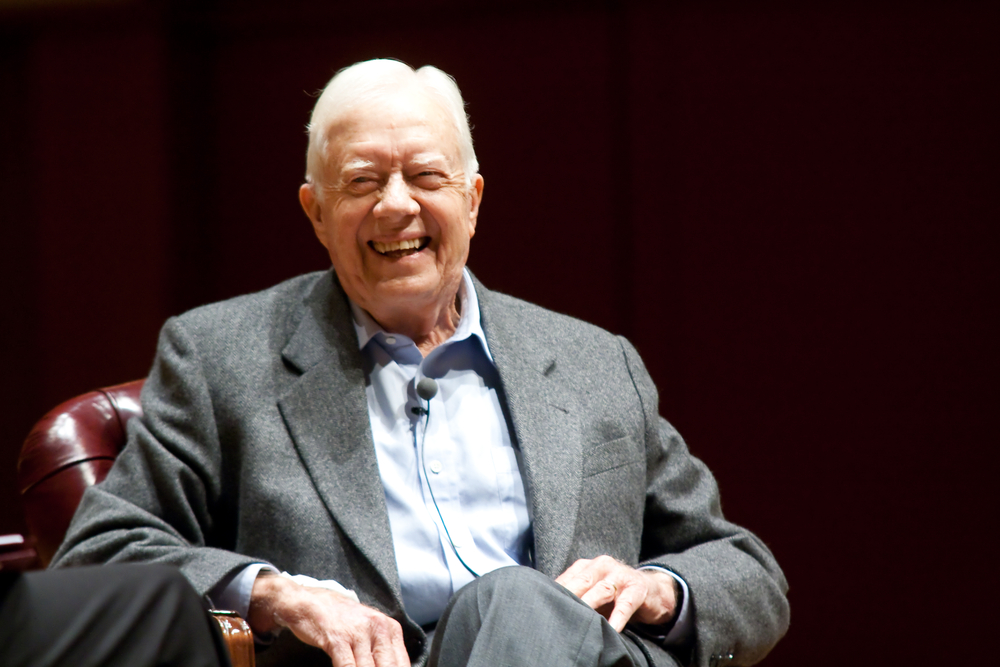 Even in his advanced age, he's still active and going strong… so if Jimmy Carter offers you health advice, you should probably take it.
In response to the ongoing COVID-19 pandemic, health officials have long encouraged people to wear face masks in public settings to prevent the airborne disease's spread. As businesses reopen, most are requiring patrons to wear masks for their safety and the health of those around them.
However, more and more people are refusing to obey the orders, saying the masks are a violation of their rights. Combined with mixed signals from politicians, the importance of these masks to contain the coronavirus and save lives has been lost.
But Jimmy Carter and his wife Rosalynn are offering this straightforward advice on the issue: "Please wear a mask to save lives."
The couple—who just recently celebrated their anniversary and became the longest-married president and First Lady—are seen wearing custom face masks featuring the Carter Center logo.
It's an important message that many people need to hear. Wearing a mask is an effective way to halt COVID-19's spread, and will be crucial as social distancing eases up and American begins to reopen.
This is the latest statement Carter has made on the coronavirus. In March, he and Rosalynn put out a statement urging donors to the Carter Center to instead redirect their donations to "a local group that is reducing the suffering caused by this pandemic."
Listen to Jimmy & Rosalynn — wear your mask when out in public! Protect your own health and help save lives.
Share this important message!
The post Jimmy & Rosalynn Carter encourage people to 'wear a mask to save lives' appeared first on Happy Santa.