Man goes viral after he delivers water to riot police at Black Lives Matter protest
|
The protests sparked by the murder of George Floyd last week may have spilled into rioting in some parts of the U.S., but peaceful protests have also been in evidence.
Indeed, numerous examples of protestors getting their point across without the need for violence, arson or looting have been seen around the world. A picture from Philadelphia is going viral in particular, after it showed a demonstrator giving out water to riot police during a peaceful protest.
As per reports, Alexander Cash approached the ranks of officers in an East Liberty Target car park on Sunday. He'd brought with him a multipack of water bottles that had been donated to those there to protest.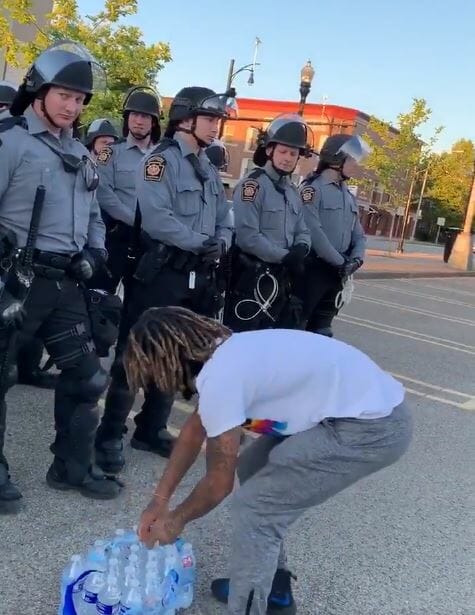 Reports say Cash was one of the organizers of the protest, and presented himself to the officers saying: "I know you guys are thirsty."
A few of the officers responded with smiles, though others remain stone-faced.
Cash continued: "I'm just trying to spread a message, okay? I know you guys are out here doing your jobs. I'm not mad at you. I'm mad at the ones that are doing it to us, do you understand?"
After ripping open the pack of water, Cash said: "We came out here peaceful, that's what I'm trying to show you."
He then left the water there for officers to take if they wanted it. The protest in question was one of two that took place in East Liberty, Pittsburgh on Sunday, May 31.
The protests surrounding George Floyd's death continue to demand justice for both he and the millions of black people around the U.S. – and the rest of the world – that face prejudice and injustice for the color of their skin.
At the time of writing all four of the officers involved in the arrest that ended Floyd's life have been arrested. We can only hope they are met with the justice they deserve.
Thank you, Alexander Cash, for organizing a peaceful protest and helping to bridge the divide between citizens and officers.
Share this article if you support Black Lives Matter, and if you accept and understand that things need to change.
The post Man goes viral after he delivers water to riot police at Black Lives Matter protest appeared first on Newsner English.