Man severely injured after protestors tear down Confederate statue in Virginia
|
On Wednesday night, Chris Green attended a Black lives matter protest in Olde Towne Portsmouth, Virginia. During the evening demonstration, the crowd gathered around a Confederate soldier statue and began tearing it down.
But the celebratory mood quickly came to an end when a large piece of the statue toppled down on Green.
He was rushed to the hospital where according to his wife, Tonieh Brisbane-Green, he was put in a medically induced coma.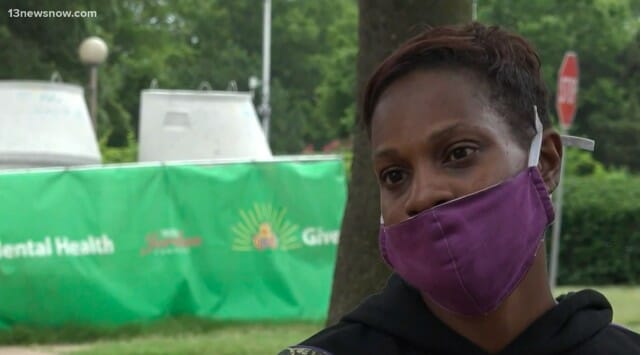 "I just feel like I'm in a dream right now. Like, I just need to be pinched to wake up and everything will go back to normal," she said.
A GoFundMe set up by Black Lives Matter 757, the group that organized the protest, said that while people were trying to tear down the Confederate statue, Green was attempting to keep others safe.
But while he was trying to move others to safety, Green was hit by a falling piece of the statue.
Police were reportedly at the scene, but did not intervene when protestors began dismantling the statue. They did however, step in as soon as Green was hit and asked everyone to leave the scene.
Brisbane-Green said that as her husband was being transported to the hospital he flatlined twice, and now he's in a coma.
While the mother of two supports protestors, she wishes it would be conducted in a "peaceful manner."
"There was no need to do all of that especially while there were so many people around that statue knowing that somebody's going to get hurt."
While Brisbane-Green hasn't decided if she will press any charges, Virginia State Police are investigating.
As of Thursday evening, Green's condition had improved since he was brought to the hospital with life-threatening injuries. As of 9:30 p.m. Thursday, he was in stable condition, according to WAVY.
From all accounts Chris Green was simply trying to protect others from getting hurt and in the end he was the one who suffered grave injuries.
Please share this and send a prayer for his healing.
The post Man severely injured after protestors tear down Confederate statue in Virginia appeared first on Newsner English.