Massachusetts family places over 8,000 flags in front yard to honor the state's COVID-19 victims
|
Nearly 130,000 people have died in the United States due to complications from the coronavirus.
It's a staggering number, one that many people have a hard time comprehending.
One family in Massachusetts has taken it upon themselves to place a small American flag in their front yard to honor the state's coronavirus victims.
As of June 30, they have placed over 8,000 flags.
"Never in a million years did I ever think we'd get to this number," Mike Labbe told the Milford Daily News. "We obviously prayed to be in the hundreds, not thousands. Unfortunately, sadly, it's still growing."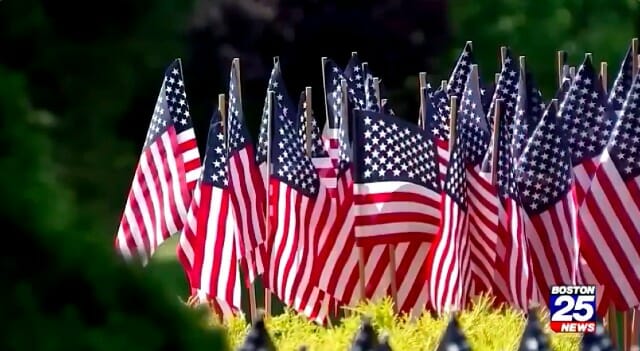 Labbe, who knows two people who died from COVID-19, said he plans on planting the flags in his front yard as long as there continues to be a daily death count.
As for now, he and his family do their best to keep up with the "pretty expensive" and time consuming tribute.
The family has spent countless hours and thousands of dollars on the display, which occupies a large portion of their front yard and will soon overflow onto their grass.
"Each board has 25 holes that we drill ourselves the kids take the time to set the flags in them," Labbe told Boston 25 News.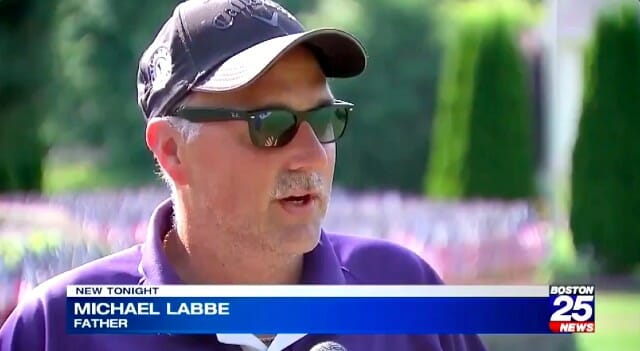 People have come from far and near to see the Labbes' tribute to coronavirus victims. And while some have offered donations to help offset to cost, Labbe has refused.
"He lost a relative to this COVID," Labbe said. "I couldn't imagine doing that (accepting his donation). How would I be a good father teaching my daughters if I took some money from somebody that lost somebody? Are you kidding me?"
Instead, once the pandemic is over he plans to sell each flag for $1 and donate the money to a charity.
"I truly believe that this would unite us not just as neighbors not just as a family but as a country and the world," Labbe said. "That we would get united but look where we are today we are just the opposite. You don't have to see eye to eye but we should respect and honor each other human life. At the end of the day look at these flags these poor people don't have their life to preach that."
What a touching display for all those who lost their lives in Massachusetts. We must not forget them, and we must continue wearing masks and practicing social distancing to stop the spread of the virus.
We CANNOT afford to lose any more loved ones.
Share this beautiful tribute on Facebook.
The post Massachusetts family places over 8,000 flags in front yard to honor the state's COVID-19 victims appeared first on Happy Santa.