Mother throws toddler out of burning third-floor apartment – little boy survives
|
A mother's harrowing last act as she attempted to save her child from a burning apartment was caught on camera.
The 30-year-old woman's two young children survived the fire with injuries, she did not.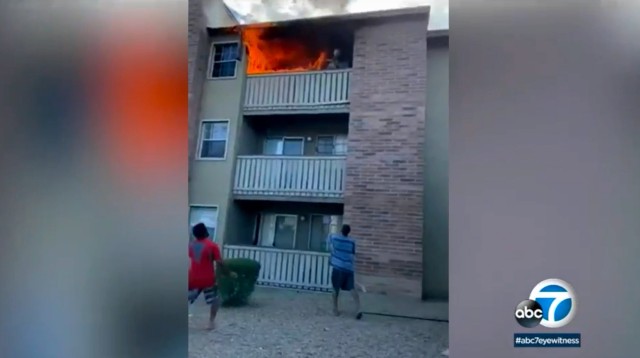 On July 3, a fire broke out in a third-floor apartment in Phoenix, Arizona.
Leonard Thompson, a neighbor, rushed to help.
"When we kicked the door down that's when I seen flames come in. That's when I heard the screaming, so I just went into the apartment and grabbed the little girl, and I realized when I dragged her out, she was severely burned from top to bottom," he said.
While the girl, 8, was rushed to safety, her mother and younger brother, 3, were still trapped inside.
"The mother threw the second child over the balcony while she was burning and I saw her in flames, head to toe," Juanita Williams, a neighbor, said.
Phillip Blanks happened to be near the apartment building when the fire broke out Friday morning, and the timing potentially saved a little boy's life.
"I saw another guy was standing there ready to catch the boy, but he didn't look like he was going to do it, so I stepped in front of him," Blanks told Patch.com.
"The way I caught him damaged his foot, but the most important thing is his head was safe," the retired U.S. Marine said.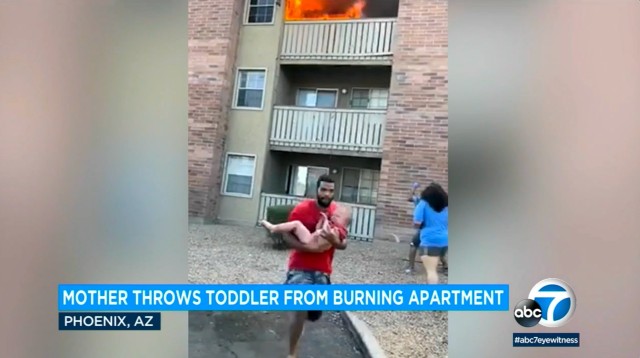 While Blanks and neighbors were able to save the children and others in the apartment building, the children's 30-year-old mother did not survive.
Fire crews found her body inside the apartment, according to the Arizona Republic.
The children's father was not at home when the fire broke out.
In total, eight units were damaged. The children were taken to a local burn unit in critical condition. It was reported that they had suffered serious injuries, but that they were non life-threatening. A woman also went to the hospital with a leg injury.
After saving the 3-year-old, Blanks told WWMT he wanted to "track those two children and their father down, and to help them as much as I can."
This is such a terrible story, but what a brave last act. She saved her babies and her community was there to help her.
May she rest in peace, and may the family begin to heal.
Share this to thank everyone for helping and to send your condolences.
The post Mother throws toddler out of burning third-floor apartment – little boy survives appeared first on Happy Santa.