Nurses share devastating note with COVID-19 patient's family
|
All over the world, people have been dying alone. It has been a horrific side effect of the coronavirus pandemic.
No one is allowed to visit patients with patients so the virus doesn't spread.
Fortunately, in some places the restrictions are being loosened, but in places where visitors are still unable to be by their loved one's side, the only thing they can do is hope their loved one is comforted in some way.
For two weeks, the Johnson family visited their father Rene, who was being treated for COVID-19, outside his window at Catholic Medical Center in Manchester, New Hampshire.
While they couldn't physically be with their father, the nurses who took care of him communicated with the family with signs and let them know they were making him feel loved.
"We will tell him you love him."
Since the family of five began gathering they have become famous among the nurses at CMC.
"Everyone would come in and say, 'Is the family there?' And everyone would go to the window and wave," said ICU nurse Kaitlyn Kerrigan.
On Sunday, when the family went to visit their father they were greeted with two signs from the nurses.
"He is at peace," one sign read. "We are so sorry."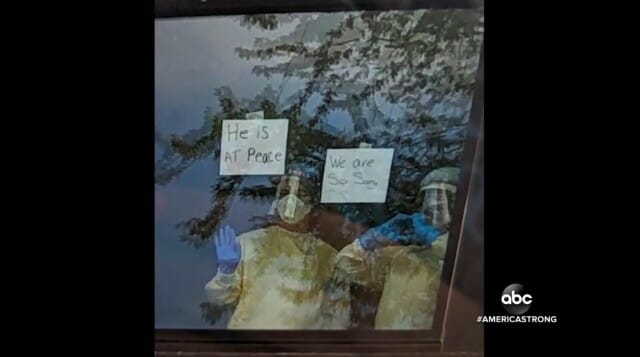 Despite, the family's loss, the Johnson family continued to show up outside of their father's window.
"We're extremely grateful for everything they did for our family. We continue to gather out here for a vigil just to show support and love for other COVID-19 patients that might not have their families out here," Rene's daughter Angela Daneault told ABC News.
"There's people in there that really need somebody," Kevin Johnson told WMUR. "I'm going to make signs. We're going to give the food. They're going to see balloons."
Thank you to all the hardworking nurses who still find the time to comfort patients. Share this to thank them.
The post Nurses share devastating note with COVID-19 patient's family appeared first on Newsner English.