Police officer hailed as a hero after he saved a choking 3-week-old baby
|
A Michigan police officer is being praised for the way he handled an extremely nerve-racking situation.
On July 9, Officer Cameron Maciejewski responded to a call about a 3-week-old baby who was not breathing. When the Sterling Heights police officer arrived at the home, he was quickly surrounded by the baby's mother and other family members.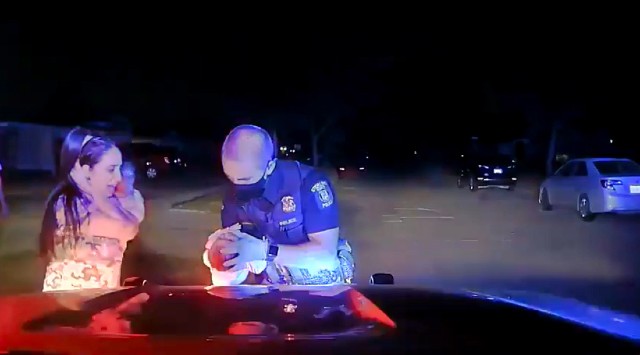 As Maciejewski took the child in his arms, he assured the distraught mother everything would be okay.
"He's crying! He's crying!" Maciejewski said as soon as he was able to remove the obstruction from the baby's airway. "It's okay, he's crying."
The baby's mother fell to the ground in relief, and as more family members swarmed Maciejewski, he continued to remain calm and assure everyone the 3-week-old was fine.
"If it wasn't for Ofc. Maciejewski's quick, calm, lifesaving actions, the outcome of this incident could have been tragically different. Not only did the officer save the baby, but the officer did an outstanding job consoling the family," the Sterling Heights Police Department said.
The Sterling Heights Fire Department took the baby to the hospital for evaluation.
In a video shared to the department's Facebook page, Maciejewski said he was able to remain calm because of all the training he's gone through.
"If I start freaking or if I can't handle myself or handle my cool it just escalates everything for the family."
Thank you Officer Maciejewski! Your ability to remain calm in such a frantic situation was admirable. We need more officers just like you.
Share this if you agree.
The post Police officer hailed as a hero after he saved a choking 3-week-old baby appeared first on Happy Santa.