Police officer saves man in wheelchair stuck on railroad tracks from oncoming train
|
Everyone knows not to stop on train tracks, especially when a train is barreling towards you. But sometimes for whatever reason it's simply impossible to move out of the way.
Thankfully one man had someone looking out for him who came to his rescue in the nick of time.
The Lodi Police Department recently released dramatic video from one of their officer's vehicles and body cameras that showed Officer Erika Urrea rush to the aid of a 66-year-old man stuck on railroad tracks in Lodi, California.
The scary incident took place on August 12, at 8:44 a.m.
Urrea was in the area when she spotted the man in his wheelchair. The man, whose identity has not been released, was still on the tracks as the railroad crossing arms began to lower.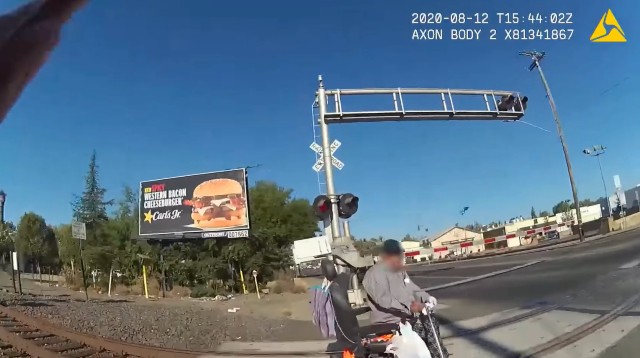 She quickly exited her vehicle and attempted to move him and the wheelchair from the tracks, but when she couldn't move the wheelchair she pulled the man from his chair.
The two fell to the ground just as the locomotive rushed pass the intersection.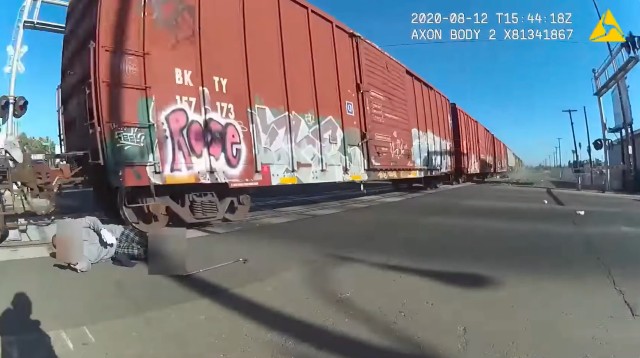 The man was treated for a leg injury and transported to a hospital. He is expected to survive.
The Lodi Police Department praised Urrea for her heroism and quick-thinking.
"Officer Urrea risked her own life to save another and her actions prevented a tragedy today. We are extremely proud of Officer Erika Urrea and her heroism."
Officer Urrea certainly is a hero. Not everyone would risk their life and run towards a speeding train. Thank you Officer Urrea for saving this man's life.
Share this post on Facebook to thank her for being a hero.
The post Police officer saves man in wheelchair stuck on railroad tracks from oncoming train appeared first on Happy Santa.