'Pyrotechnic device' from gender reveal party sparked El Dorado Fire, which has grown to nearly 10,000 acres
|
It wasn't too long ago that gender reveal parties were unheard of. Jenna Karvunidis, often referred to as the creator of the wildly popular party, had hers in 2008 after suffering many miscarriages.
"I mean gosh, I just like to throw parties," she said. "I just thought it would be really fun for everybody in the whole family to find out."
Karvunidis wrote about it on her blog, and shortly after she began seeing more and more parties just like hers. And they became more and more elaborate and dangerous.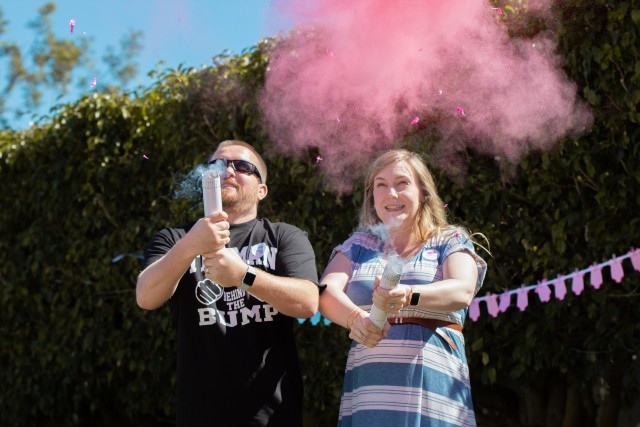 Most recently, a gender reveal party has been blamed for starting the El Dorado Fire in San Bernardino, California.
In a press release, CAL FIRE said a "smoke-generating pyrotechnic device" ignited the grass around 10:30 am on September 5.
Surveillance footage from the park reportedly shows someone lighting the device and then moments later several people scrambling to throw bottles of water on the flames as they begin to spread.
When crews arrived at El Dorado Ranch Park, where the fire began, they found the couple still on the scene.
"It really is a tragedy, it's sad. They were hoping to remember the day in a different way," CAL FIRE investigator Capt. Bennet Milloy said.
Currently, the fire has grown to more than 9,500 acres and is only 7 percent contained. Evacuations have been ordered, but thankfully, as of yet, no injuries or damage to structures has been reported.
Milloy told the Daily Mail that the couple may be civilly and criminally responsible, which could include a hefty fine and jail time.
Officials have reportedly already identified at least three laws that were broken, including "igniting the land" and arson.
While no structures have been damaged yet, if any become damaged the punishment could increase.
Milloy said that while the couple truly believed it was an accident, they did understand the severity of their actions.
This is not the first time this has happened, nor is it the last time a gender reveal party will go wrong.
In April 2017, a border patrol agent shot at a target to reveal the gender of his child. Upon impact the surrounding brush ignited and sparked a wildfire that burned 47,000 acres and caused $8 million in damage.
In October 2019, a woman attending a gender reveal party was instantly killed when flying debris from an unintentionally homemade pipe bomb hit her in the head. The device was meant to reveal the sex of the baby.
Another incident involved a car in Australia going up in flames.
And of course the reveal that used an alligator…
While the weather remains hot and dry, hundreds of emergency crews continue to fight the El Dorado Fire.
I say enough is enough. It's extremely reckless to throw these types of gender reveal parties and not even think of the consequences.
What are your thoughts? Share them with us on Facebook.
The post 'Pyrotechnic device' from gender reveal party sparked El Dorado Fire, which has grown to nearly 10,000 acres appeared first on Happy Santa.