Queen Elizabeth spoke to royal family privately after Harry and Meghan's racism claims
|
[ad_1]

The Queen has said she will address the "concerning" racism claims made by the Duchess of Sussex and Prince Harry privately.
In a two-hour interview with Oprah Winfrey, which aired on Sunday in the U.S., Meghan said that Harry had told her a family member had "concerns and conversations about how dark his (their son Archie's) skin might be when he's born."
When asked for more details, Meghan said there were "several conversations" with Harry about "what that would mean and what that would look like."
The day after the explosive interview was aired in the U.K. the Queen issued a statement addressing the Duchess of Sussex's claims of racism in the royal household.
The statement, which was issued by Buckingham Palace on behalf of the Queen, read: "The whole family is saddened to learn the full extent of how challenging the last few years have been for Harry and Meghan.
"The issues raised, particularly that of race, are concerning. While some recollections may vary, they are taken very seriously and will be addressed by the family privately.
"Harry, Meghan and Archie will always be much loved family members."
Meghan and Harry refused to identify which family member made the comment but Winfrey revealed after the interview that Harry wanted to make it clear it was not the Queen or her husband Prince Phillip.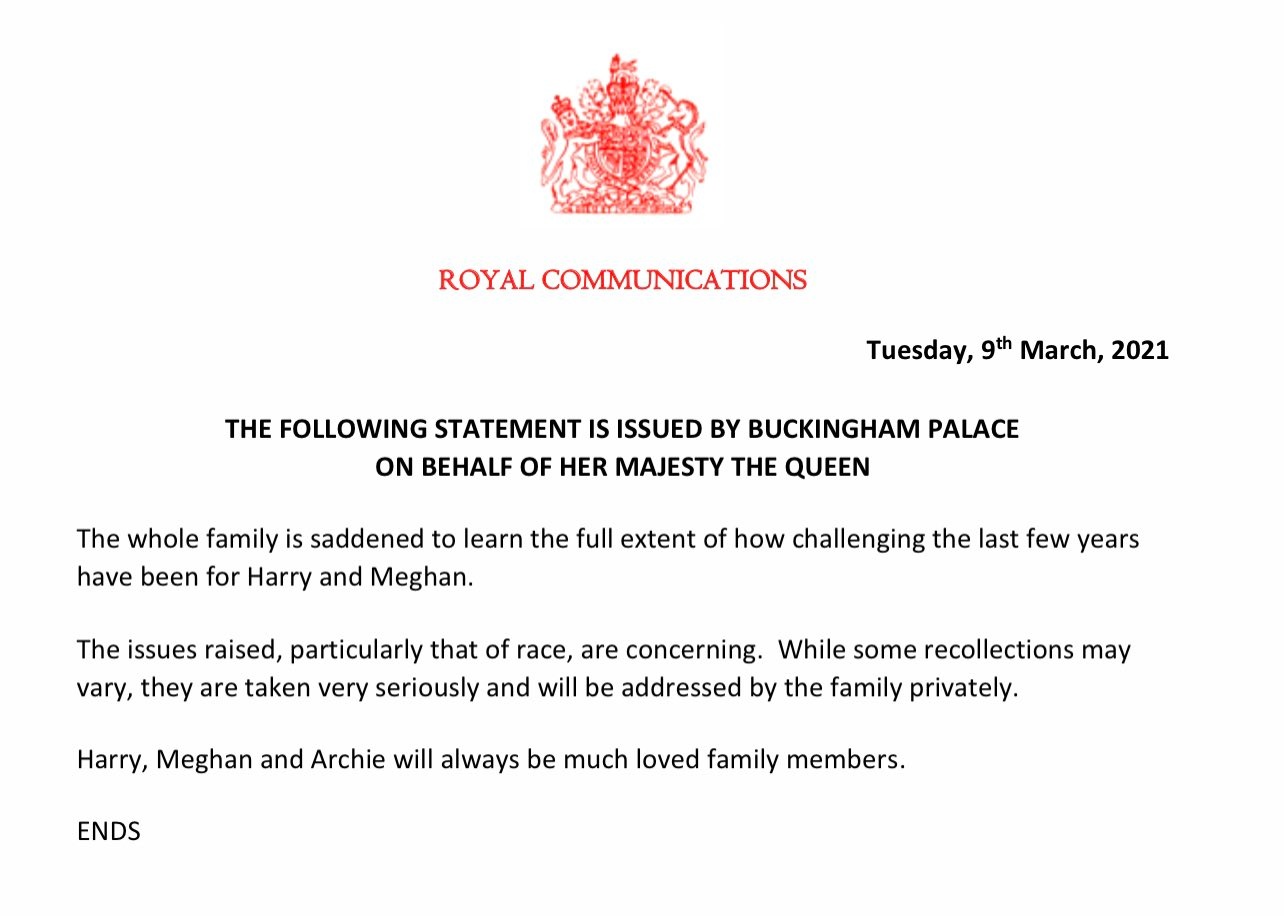 The 94-year-old monarch added that the allegations would be taken seriously.
Royal author Phil Dampier said it was clear that the Queen had addressed the race allegation privately.
Referring to the line in the palace's statement "some recollections may vary" Dampier told the Daily Mail: "The queen is really saying that Harry and Meghan might be giving their version of events or their interpretation of a conversation a couple of years ago.
"Clearly she has spoken to the person who allegedly made the remark about Archie and they have given her their version of events."
The Queen is not expected to comment any further.
Royal expert Richard Fitzwilliams reportedly said the Queen's response assures Harry and Meghan and the public that the matter would be addressed by the monarchy.
He added, "It would always have been inappropriate to do a point-by-point rebuttal of claims which they made with which the Palace disagree."
On Thursday Prince William broke royal protocol by responding to questions shouted at him by reporters during a visit to an East London school.
"We're very much not a racist family," Harry's older brother William said as his wife, Kate, walked by his side.
Fitzwilliams said William's response was very telling.
Prince William says 'we are very much not a racist family' and he hasn't spoken to Harry yet but plans to," he wrote on Twitter.
"I feel William spoke out in this highly unusual way because he is shocked and angry at the accusations of racism made against RF (Royal Family)."
According to AP News, the allegations of racism come as no surprise to Black British natives.
Historian, David Olusoga, reportedly said Britain does not want to address the issue of racism in the country.
"Harry and Meghan interview: This is not just a crisis for the royal family – but for Britain itself," he wrote in an article for the Guardian newspaper.
"When racism is acknowledged in Britain, it is portrayed not as a structural, social problem, but as a minor, if regrettable, fact of life – one that black people have to tolerate and learn to live with," he wrote.
What do you think about the Queen's response to Harry and Meghan, do you think it's enough? Please leave your comments below and share this story.
The post Queen Elizabeth spoke to royal family privately after Harry and Meghan's racism claims appeared first on Happy Santa.


[ad_2]