Reopened bar makes customers wear giant rubber tubes to keep them six feet apart
|
The coronavirus pandemic has taken a toll on all of us. We've all spent the past few months staying indoors and social distancing.
One of the things we've missed most has been going out to bars and restaurants, and with coronavirus restrictions beginning to ease up in some areas, some of these businesses are finally allowed to reopen.
But with the virus still a threat, bars have had to find a way to serve their customers while still keeping them six feet apart… and one bar has found a very method enforcing social distancing:
Giant rubber tubes.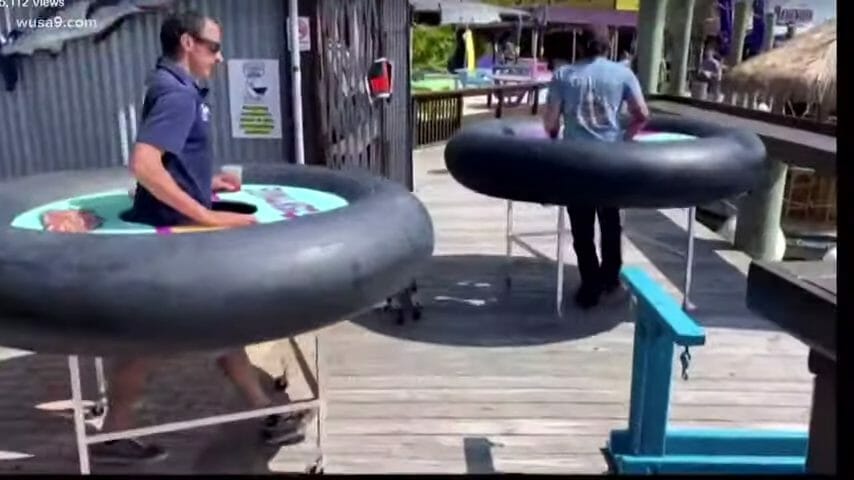 Fish Tales bar and grill in Ocean City, Maryland is reopening their dine-in services, but will require guests to protect themselves with circular tables, specially designed by Revolution Event Design and Production to keep everyone six feet apart, according to WUSA9.
With their wheels and rubber side bumpers, they look like a bizarre cross between a swim tube and a baby walker, but they seem to do the job:
They even have their own built-in cupholders. In fact, this could be the perfect thing for some bar patrons.
"This could be useful to keep some of these drunks upright," said one WUSA9 anchor.
It's a pretty creative solution to a problem many bars will be facing, although it does make you look pretty ridiculous. It'll be up to customers to decide whether it's worth finally getting out of the house for a drink.
Would you wear one of these if it meant finally getting to go out to a bar? Share this story with your opinions!
The post Reopened bar makes customers wear giant rubber tubes to keep them six feet apart appeared first on Newsner English.