School bus drivers pay tribute to new graduates by spelling '2020' with their buses
|
For students graduating in 2020, it's safe to say that this isn't how anyone imagined their senior years going.
The COVID-19 pandemic has impacted all of our lives and canceled virtually all public events, forcing most seniors to miss out on once-in-a-lifetime rituals like graduation and prom.
But their friends, family and faculty have been doing everything they can to celebrate this special time in their lives, even with so much going on.
And at one high school, the most special tribute came from those who have seen these students to school every morning: the bus drivers.
Loveland City Schools, in Loveland, Ohio, shared a video of a tribute from their transportation department. The bus drivers formed a giant "2020" with their buses, and waved to the graduates in an aerial shot:
We don't tend to think of bus drivers as part of students' lives like we do teachers and principals, but many of these employees watched the students grow up and wanted to do something special for their graduation.
"Some of us have been around long enough to transport these kids since Kindergarten and some of us have only been working with the district for a few years, but the one thing we all have in common is the love for our students," said driver Jennifer Bloom Bowman on the district website. 
"This is a huge accomplishment and anyway we can show them some love, we will do it.  So here's to the Class of 2020.  Your bus drivers are proud of all of you."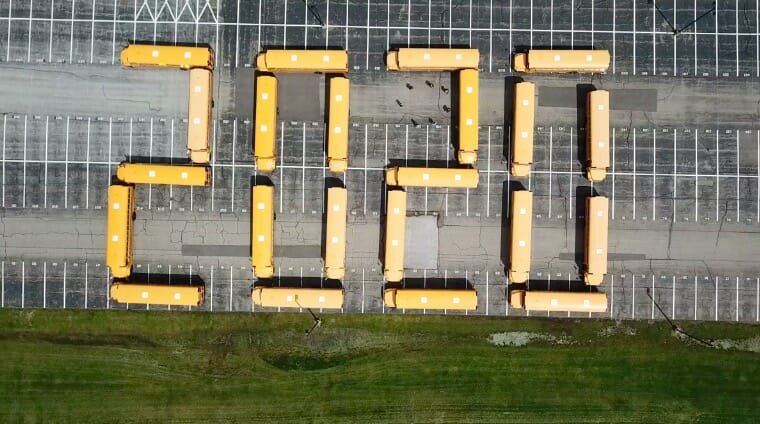 What an amazing tribute! Thank you to these drivers for going out of their way to congratulate the graduating class in such an inspiring way, we know your efforts were appreciated.
Share this inspiring story!
The post School bus drivers pay tribute to new graduates by spelling '2020' with their buses appeared first on Newsner English.