Teen's belongings put out to curb after he's caught speeding in family's Range Rover
|
Not too long ago making teens stand outside holding a sign explaining their bad behavior was a "thing."
Why? The world may never know. Although we do know that publicly shaming teens and children isn't typically recommended.
Nonetheless, parents still do it in hopes that whatever message they're trying to get across to their child will finally sink in.
One family in Phoenix took it to the extreme when their 14-year-old son was caught driving the family's Range Rover.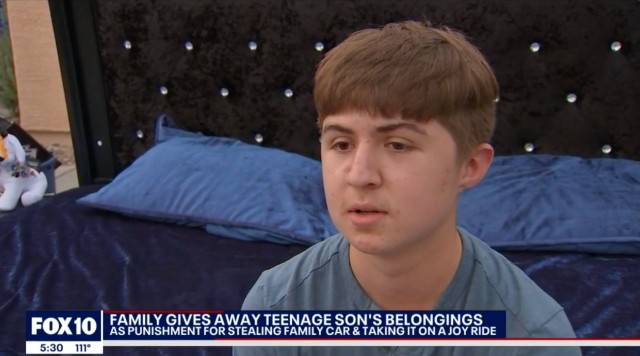 "I just wanted to drive but I don't have a license so I just took it," said 14-year-old Angel Martinez. "I can wash the car, and I was like I don't have anything to dry it, so I'm gonna take it for one spin until it dries."
The 14-year-old reportedly took the family car for a spin while his parents were in Las Vegas on vacation.
While they were away they received a call from the police. Their son had been speeding through the neighborhood.
Enough was enough.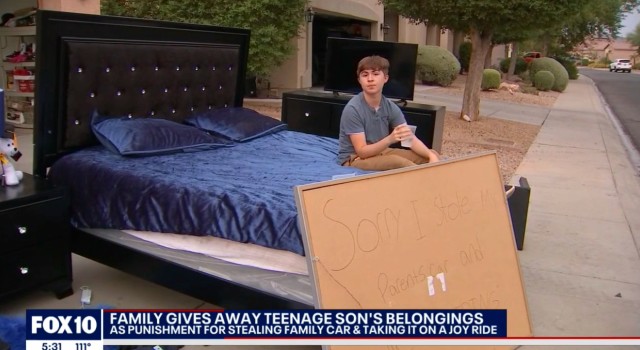 "We got back to the house. Today, his room is 100% empty, and we're giving all his stuff away," Ramon Martinez, Angel's father, told FOX 10.
Angel was made to sit outside in front of his family's home with a sign that read: "Sorry I stole my parent's car and was speeding."
His personal belongings were given away for free.
"We're neighbors as well. He could've run someone over," Ramon said. "Something really bad could've happened."
Angel now has nothing, and he said he's finally learned his lesson.
"It's kind of weird, but I think it's a fair punishment," he said.
Do you think Angel deserved this kind of punishment?
Let us know on Facebook.
The post Teen's belongings put out to curb after he's caught speeding in family's Range Rover appeared first on Happy Santa.