U.S. Marines honor WWII veteran in hospice with a special salute
|
Jesus Corona, 95, is currently in hospice care in El Paso, Texas.
The WWII veteran's family have visited him to say their goodbyes, but one family member, his granddaughter has been unable to travel to see him due to COVID-19 restrictions.
Since she couldn't be there in person, Corona's granddaughter contacted the local United States Marine Corps recruiting center and asked if they could help her out.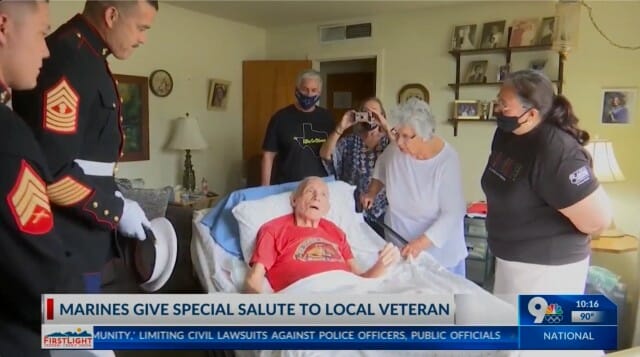 On Monday, several current U.S. Marines visited Corona to honored him and thank him for his service.
"To us, he's always been a joy. He's one of those quiet, silent men, but sometimes actions speak louder than words, and he always sets the example, definitely, definitely, and we love him," Maria Corona told KTSM.
What a special moment for everyone, but especially for Jesus Corona. Thank you for your service.
Share this to honor Jesus.
The post U.S. Marines honor WWII veteran in hospice with a special salute appeared first on Happy Santa.