Virginia State Trooper on administrative leave after video of aggressive and violent traffic stop goes viral
|
A Virginia State Trooper is on administrative leave after footage of him forcefully pulling a Black man out of his vehicle during a traffic stop went viral.
The incident occurred in April 2019, but has recently gained attention after it was shared online.
The trooper has been identified as Charles Hewitt.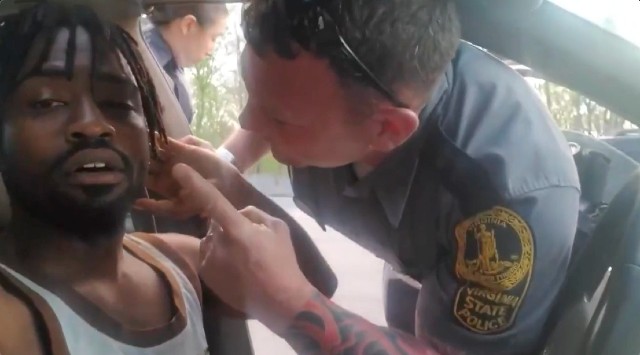 The video, which was shared on Twitter by Joshua Erlich, doesn't show the beginning of the traffic stop, but according to Erlich a Virginia State Trooper stopped Derrick Thompson on April 20, 2019 for an expired inspection sticker.
The trooper alleged that she detected an odor of marijuana, and when she announced her intent to search Thompson's car, he did not give his consent.
She returned to her vehicle and called for backup. It was at that time that Thompson took out his cell phone and began recording.
Approximately 10 minutes later, two troopers arrived, and failed to properly identify themselves after Thompson asked for their names and badge numbers.
The rest was caught on camera.
As Thompson remained calm and focused on capturing the encounter, Hewitt raised his voice and repeatedly got within inches of Thompson's face. There were several times he spoke to the camera, and at one point, moments before he ripped Thompson out of his vehicle, he looked at the camera and said…
"Watch the show, folks."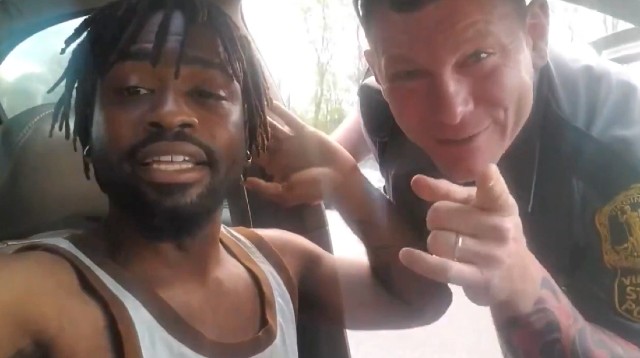 The phone falls and you can't see anything, but you can hear Thompson crying for help while Hewitt allegedly held him on the ground causing cuts and abrasions.
The Virginia State Police responded to the video and said Hewitt had been placed on administrative leave.
"The conduct displayed by Trooper (Charles) Hewitt during the course of the traffic stop is not in agreement with the established standards of conduct required of a Virginia trooper. Nor is it characteristic of the service provided daily across the Commonwealth of Virginia by Virginia State Police personnel," Superintendent Col. Gary T. Settle said.
Once the Virginia State Police complete their investigation, it will be turned over to the Commonwealth's Attorney.
Thompson was arrested and charged with obstruction of justice, driving on a suspended license, and an expired inspection decal.
This cannot keep happening. It is absolutely unacceptable.
Share if you agree.
The post Virginia State Trooper on administrative leave after video of aggressive and violent traffic stop goes viral appeared first on Happy Santa.