'White lives matter' painted on California street, police investigating
|
Days after a white man and white woman were filmed vandalizing a city-approved Black Lives Matter mural in Martinez, California, someone illegally painted "white lives matter" on a street in the city.
Police are now looking for whoever vandalized the street.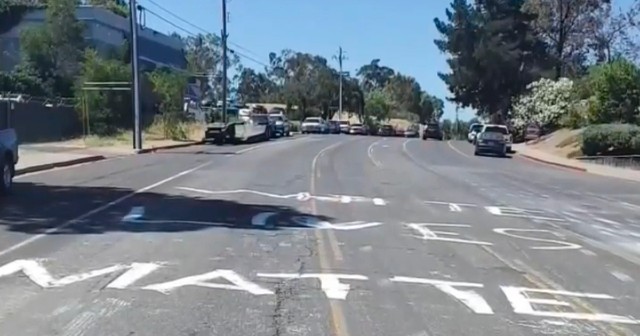 It's believed the painting occurred either Monday night or early Tuesday morning, not long after David Nelson and Nicole Anderson were charged with a hate crime for painting over the Black Lives Matter mural in front of the Wakefield Taylor Courthouse in Martinez.
"What I saw was hate speech written on the ground and we're not going to tolerate it," Black Lives Matter supporter Jeff Christensen said.
Police were called to the location Tuesday afternoon and when they arrived they found a woman painting over the white markings.
"Neither the person who painted 'White Lives Matter' or her should be painting on the roadway," Lt. Mike Estanol, a Martinez police spokesman, told the San Francisco Chronicle.
Although he stated that the woman had been painting over the sign because she was "frustrated."
Officials reportedly painted over the rest of the "white lives matter" sign.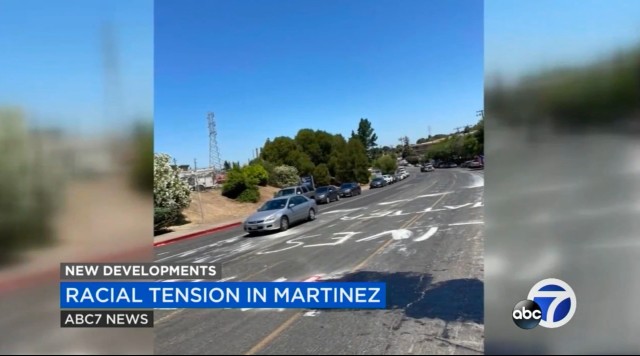 An investigation is ongoing, and police hope that businesses might provide them with security footage to see if they can identify any possible suspects.
However, many in the predominantly white town, have reportedly said they would rather be involved with the investigation.
"That's right we're not going to tolerate this in our neighborhood. We're not going to take this kind of hate," Christensen said.
Henry Williams, who also supports the Black Lives Matter movement, said people need to understand the message behind the movement, which is not about hate. It does not mean Black lives matter more.
White lives matter, on the other hand, is a white supremacist and racist response to a movement aimed at helping to amplify the voices of those who have been oppressed for hundreds of years.
Share this if you believe all lives don't matter until Black lives matter.
The post 'White lives matter' painted on California street, police investigating appeared first on Happy Santa.