Wife gets job as dishwasher at nursing home so she can see her husband with Alzheimer's
|
All around the country, families have been prevented from seeing loved ones in hospitals, senior living facilities, and other medical care homes due to COVID-19 precautions.
It's an extremely unfortunate side effect of the virus, one that could have devastating consequences.
"I see him disappearing in front of my eyes," Mary Daniel told First Coast News. "And I'm starting to get mad. There has to be a better way."
After more than 100 days, Mary finally found a way to visit her husband Steve who has early on-set Alzheimer's and lives in a memory care unit in a Florida nursing home. She got a job as a dishwasher.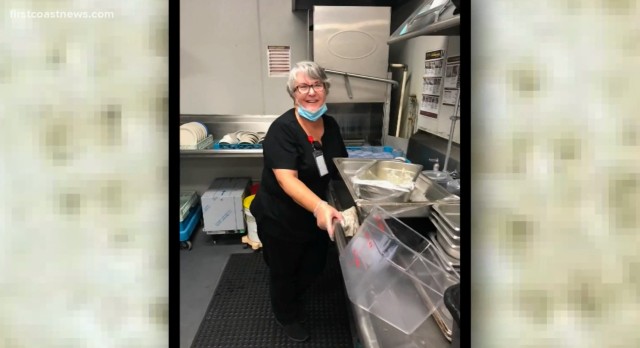 Previously, Mary, like many others across the country had to settle with a window visit, but it wasn't satisfactory. Her husband didn't understand why they couldn't get any closer.
"He cried even more than usual," she said.
Mary called Governor DeSantis' office more than 100 times to try and get an answer or share one of her solutions to the issue of not allowing family members to visit their loved ones.
She found success with State Sen. Aaron Bean, who kept her updated on any progress, but when Florida saw an uptick in COVID-19 cases, any forward movement had been stalled.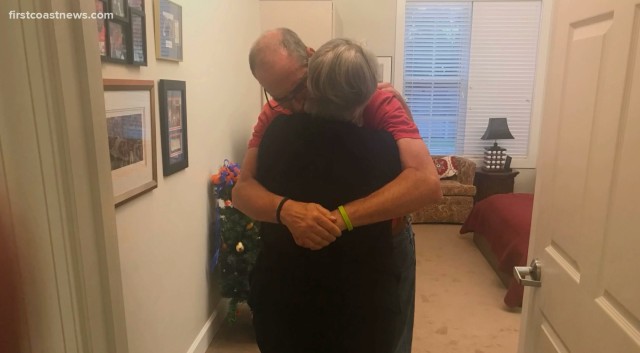 But, after her story aired her luck changed. The nursing facility reached out to her and offered her a job as a dishwasher. It was a loophole that would allow her to see Steve.
After 114 days, the couple was able to see each other.
"He was teary-eyed," she said. "He touched my face, even with my mask on."
While Mary was able to find a way to see her husband, thousands of others aren't so lucky. And a new executive order extending the ban of visitors to nursing homes is not the kind of news anyone wants to hear.
It's sad that this is the only way Mary could see her husband, and to think there are countless other families who are unable to see their loved ones.
Share this if you think there has to be a way for people to connect in a safe way.
The post Wife gets job as dishwasher at nursing home so she can see her husband with Alzheimer's appeared first on Happy Santa.