Woman responds after videos of her angry tirade in Trader Joe's go viral
|
If you are going out in public and you will encounter other people, you should wear a face mask.
Yet, despite the continued growing number of cases, there are still many people who refuse to wear a mask for various reasons.
Recently, customers at a Trader Joe's in North Hollywood, California encountered a woman who was not wearing a face mask, something that the store "strongly" encourages and requires where it is required by state and local governments.
Employees confronted her while a customer recorded the incident.
According to D. Giles, who posted the videos of the woman's tirade, it was the first day that the Trader Joe's opened.
"That man harassed me for not wearing a mask," the woman, who has not been identified but has spoken out after videos of her went viral, yelled.
"I have a breathing problem, my doctor will not let me wear a mask. So anyone harassing me to wear a mask, you guys are violating federal law."
The woman eventually left the store, but not before throwing her shopping basket on the ground and yelling at employees.
Two of the videos have received over 10 million views.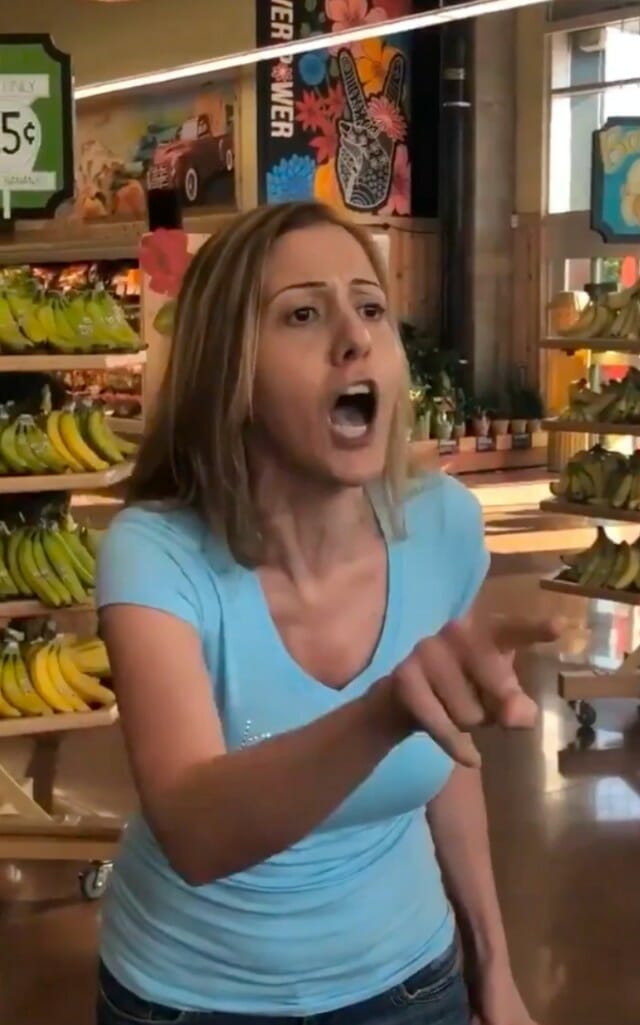 On Sunday, she spoke with ABC7 about the angry outburst.
"I did what any normal human being, a woman, would do if she was being harassed by a man, not knowing if he's a crazy man, so I started yelling in self defense," the woman said.
According to her, she contacted the Trader Joe's in Toluca Lake and received permission from the store's manager to shop without a facial covering. But instead of going to the store where she received permission, she mistakenly went to the North Hollywood location where she received permission to purchase groceries without a mask, but only on that day.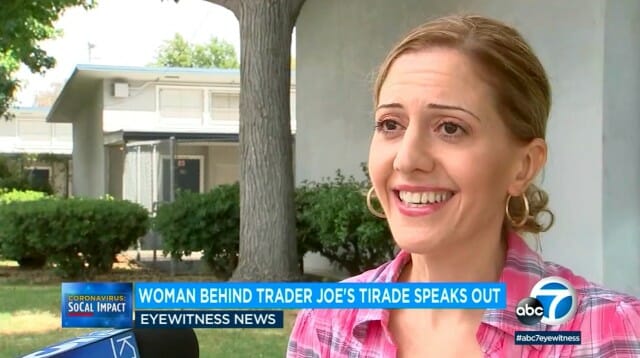 The state of California has required facial coverings inside all businesses beginning June 18, according to USA Today. However, those "with a medical condition, mental health condition, or disability that prevents wearing a face covering" were exempt from the requirement.
But in Los Angeles County, where the incident occurred, the Department of Health issued new guidance on June 26.
"Individuals who are exempt from wearing a face covering due to a medical condition and who are employed in a job involving regular contact with others must wear an alternative such as a face shield with a drape on the bottom edge."
"Unlike whatever lies they are putting out there, I had no political agenda. I had nothing. They might use whatever else I said later in my anger, it doesn't matter. What happened to me should not be happening to anyone else," she said.
The woman, who asked for her name not to be used, did not elaborate on her medical condition.
Science has proven that facial coverings protect against the spread of coronavirus.
According to Dr. Jennifer Ashton, ABC News' chief medical correspondent, those who shouldn't be wearing a face mask are children under the age of two, people with extreme respiratory distress, and those who are unconscious.
"In general, if your breathing condition is well enough to allow yelling or being outside without oxygen, you can wear a mask medically," Ashton said on Good Morning America.
Share this if you believe you should wear a mask.
The post Woman responds after videos of her angry tirade in Trader Joe's go viral appeared first on Happy Santa.