Woman throws tantrum in Costco after staff refuse to serve her for refusing to wear mask
|
A woman sat on the floor of a Costco store when staff asked her to step outside after she refused to wear a mask.
The shopper was caught on camera with a mask dangling from her ear refusing to put it on when a member of staff asked her to.
It happened at a store in Hillsboro, Oregon, where at one point the unnamed shopper shouted "I am an American. I have constitutional rights," while seated on the floor.
A member of staff at the store asked the woman if there was a medical reason for her not wearing a mask. To which the woman told her there wasn't and instead exclaimed: "I am a United States citizen!"
The employee said: "OK, well, you have to wear your mask in Costco though. It's a private property," the employee replied adding: "There is something hanging off your ear right now," referring to her mask.
"No! I am not a member of Costco," the woman shouted and then asked to speak to the manager.
"He's going to require the same. If you want to step outside here I'll have him come meet you outside," the employee said.
"No, I'm staying right here," the shopper insisted.
The worker explained it was store policy and told the woman they were going to walk outside as she started pushing her cart in a different direction.
But the shopper dropped to the floor and refused to move.
The employee then asks the woman: "Can I get you a chair outside? There's a place to sit. Want me to help you up?"
But rather than leave, the disgruntled shopper stands up and moves a few feet away and sits back down on the floor.
After the manager arrives, the woman says: "I'm not leaving. Do you want to carry me? I am an American. I have constitutional rights!"
'All shoppers must wear a mask'
According to the store's COVID-19 updates page: "all Costco members and guests must wear a face covering that covers their mouth and nose at all times while at Costco." Exceptions are made for children under the age of 2 and anyone who cannot wear a face mask due to a medical condition.
Earlier this month, a Starbucks barista who asked a customer to wear a mask had more than $100,000 raised for him online after the disgruntled customer's attempt to shame him online backfired.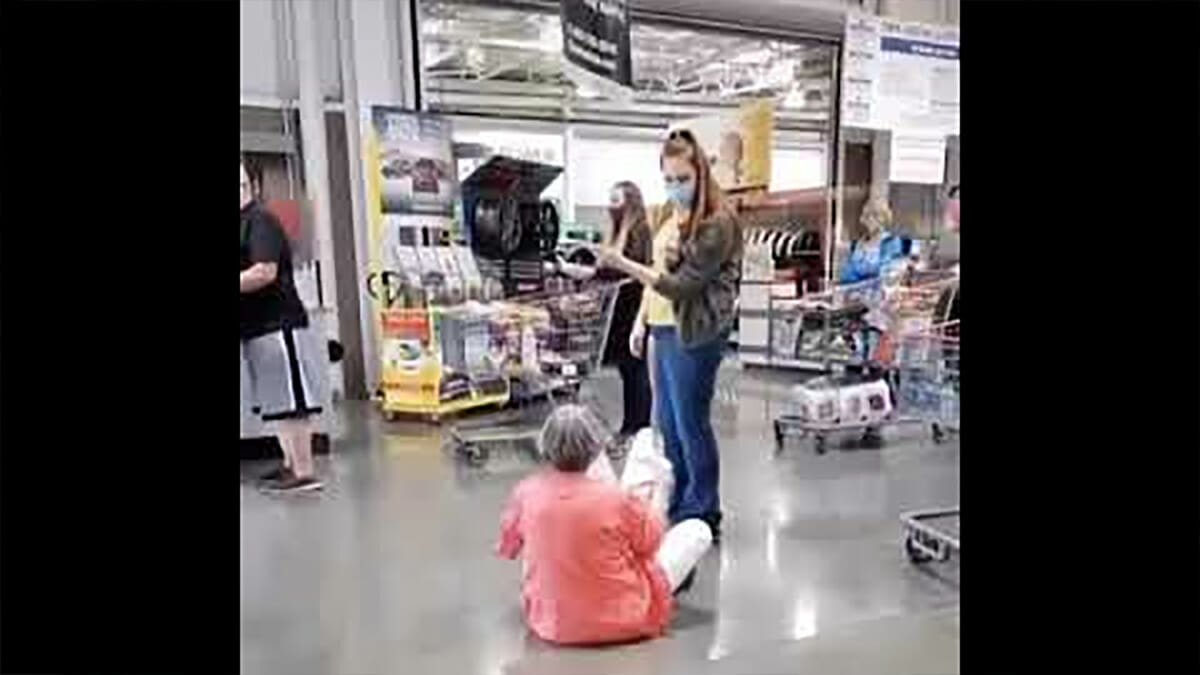 The fact that this woman went out with a mask on her and then behaves like this is beyond me.
It's a simple request that means we are not only protecting our own health but the health of others. Please share if you agree.
The post Woman throws tantrum in Costco after staff refuse to serve her for refusing to wear mask appeared first on Happy Santa.