Young man once filled with self-doubt loses 186 pounds in preparation to become a US Marine
|
Gabriel Mendez Ramirez was first introduced to the United States Marine Corps when he was in grade school. He came across a United States Marine in a restaurant and asked why he wore such a striking uniform.
From that moment, he had a goal. It was only a matter of achieving it.
But that didn't come easy.
As a freshman in high school, Ramirez weighed 365 pounds and was regularly teased for his weight. However, near the end of his second year of school at Rancho Buena Vista High School in California, he met someone he felt saw him for the person he was and not his weight.
That person was Staff Sgt. Anna Rodrigues. She had come to speak with his class about her time as a United States Marine.
"She told me 'It's all up to you if you want it,'"
The following school year, Ramirez struggled with self-doubt. When he became excited about an opportunity, there would always be someone telling him he couldn't do it.
Then he met Rodrigues again and went to the Recruiting Sub-Station Oceanside where he completed his first workout.
"I did my first workout with them and it killed me," Ramirez said, according to Defense Visual Information Distribution Services. "I ran a 26-minute mile and a half, I couldn't do any pull-ups, and I couldn't even do 20 crunches. But, they always encouraged me, motivated me, and pushed me."
Ramirez was motivated and began putting in the work.
After shedding some pounds, Ramirez hit a roadblock. He needed to improve his test scores for the Armed Services Vocational Aptitude Battery test.
His motivation slipped.
"I wasn't in a very good place, and I put back on all the weight I had worked hard to lose."
While he gave up, Rodrigues did not. She contacted him and encouraged him to keep up the work.
Ramirez got back to work, this time joining his high school's wrestling team, but after his coach, a Marine veteran, left his position and another coach stepped in, Ramirez was no longer happy.
"At first I didn't let it get to me, but once my new coach told me 'You suck.' His words really hit me hard and I quit the team."
Rodrigues continued to be there for Ramirez, even when he doubted himself.
The last boost of confidence Ramirez received when Rodrigues randomly showed up at his home.
"She told me to stop doubting myself and just put my mind to what I want to accomplish. I was the only one that could make this happen for me. No one could do it for me."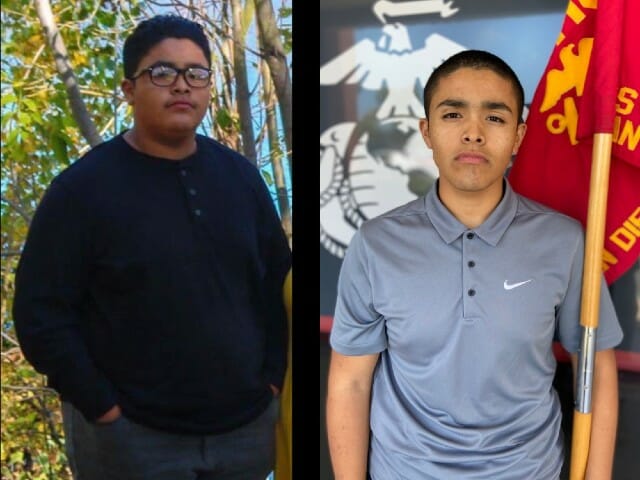 After years of doubting himself and lots of hard work, Ramirez lost 186 pounds and qualified for Marine Corps recruit training. According to DVIDS, he will leave for training at Marine Corps Recruit Depot San Diego soon.
Gabriel Mendez Ramirez and Staff Sgt. Anna Rodrigues are an inspiration. So many of us struggle with self-doubt and the motivation to succeed, but when we have one person who believes in us, we can do anything.
Share this to congratulate Ramirez on his incredible accomplishment and to wish him well.
The post Young man once filled with self-doubt loses 186 pounds in preparation to become a US Marine appeared first on Newsner English.